I'd never had a plantain before, but now I can't get enough of them. I just love their savory, subtly-banana flavor, and that they're a yummy Paleo-approved starch means I can widen my horizons from sweet potatoes and yams. Yay! This soup is rich and creamy and would incidentally make a great "cheese" or "nacho" sauce for any reason!
Make your own non-toxic cosmetics!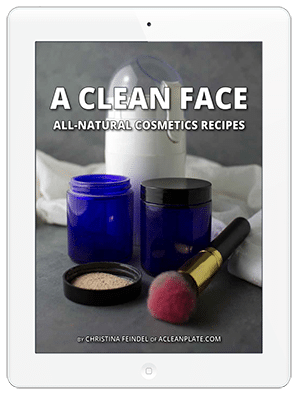 I may make my living as a food blogger, but journey toward a more health-conscious lifestyle actually began with making my own cosmetics while I was still in high school–many years before I started "clean eating". Desperate to get a handle on my sensitive skin and nose, I was also hoping for cheaper, more eco-friendly alternatives to store-bought products. If you're in the same boat, making your own cosmetics and toiletries is easier than you might think! My e-book A Clean Face will give you the tools you need to get started for just $9.99.
Total Time:
1
hour
5
minutes
Nutrition Facts
Calories:
182
kcal
Carbohydrates:
38
g
Protein:
4
g
Fat:
3
g
Saturated Fat:
3
g
Polyunsaturated Fat:
0.4
g
Monounsaturated Fat:
0.4
g
Sodium:
1498
mg
Potassium:
776
mg
Fiber:
4
g
Sugar:
17
g
Vitamin A:
7300
IU
Vitamin C:
34.7
mg
Calcium:
60
mg
Iron:
1.4
mg
Instructions
Heat the fat in a large stockpot over medium heat. Cook the celery, onion, carrot, and garlic until tender, about 5 minutes.

Add the broth and bring to a boil, then reduce the heat to medium-low.

Add the plantains, bay leaf, ginger, and salt.

Simmer uncovered 40-50 minutes or until the plantains are fork-tender. Remove the bay leaf.

Puree the soup in a blender, then serve garnished with cilantro.