I'd never had a plantain before, but now I can't get enough of them. I just love their savory, subtly-banana flavor, and that they're a yummy Paleo-approved starch means I can widen my horizons from sweet potatoes and yams. Yay! This soup is rich and creamy and would incidentally make a great "cheese" or "nacho" sauce for any reason!
Keep Your Health on Track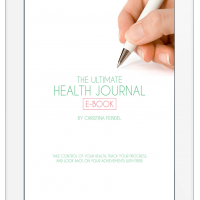 Whether you're starting the autoimmune protocol, a new medication, an exercise routine or trying to get to the bottom of your headaches or indigestion, cataloging your activities and symptoms is a great way to gauge your progress. The Ultimate Health Journal can help you stay on track with diet, fitness, and other lifestyle changes you have begun or been prescribed, notice patterns in your health and lifestyle so you can enact positive changes, and provide a valuable tool for you, your family, and your healthcare team. I would never have noticed that cinnamon makes me sneeze or dairy gives me hiccups without keeping a written record during my elimination diet, which helped me see the patterns that solved my problems! The ebook is available as a digital download with printable template for $6.99.
Total Time:
1
hour
5
minutes
Nutrition Facts
Calories:
182
kcal
Carbohydrates:
38
g
Protein:
4
g
Fat:
3
g
Saturated Fat:
3
g
Polyunsaturated Fat:
0.4
g
Monounsaturated Fat:
0.4
g
Sodium:
1498
mg
Potassium:
776
mg
Fiber:
4
g
Sugar:
17
g
Vitamin A:
7300
IU
Vitamin C:
34.7
mg
Calcium:
60
mg
Iron:
1.4
mg
Instructions
Heat the fat in a large stockpot over medium heat. Cook the celery, onion, carrot, and garlic until tender, about 5 minutes.

Add the broth and bring to a boil, then reduce the heat to medium-low.

Add the plantains, bay leaf, ginger, and salt.

Simmer uncovered 40-50 minutes or until the plantains are fork-tender. Remove the bay leaf.

Puree the soup in a blender, then serve garnished with cilantro.