I've never had a great relationship with seafood. In fact, for most of my life, sushi was the only way I'd eat it. Ideally, a roll with cream cheese, avocado, and lots of sauce to mask the flavor. Well, I branched out a bit after taking on the autoimmune protocol, considering that seafood is one of the best sources of B vitamins and omega-3 fats. This Salmon with Wasabi Sauce is a throwback to my sushi days, a rich and hearty dish that packs some punch. If you can't find AIP-friendly wasabi and haven't done reintroductions yet, you can substitute it with AIP-friendly horseradish or even some fresh ginger.
Keep your household clean, too!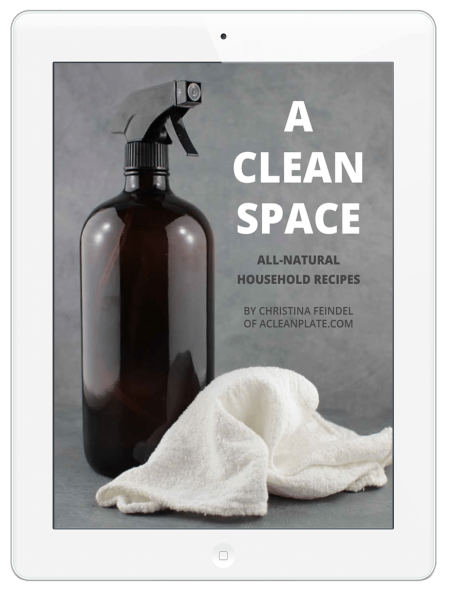 I may make my living as a food blogger, but my health-consciousness actually began long before I started cooking. Growing up with a sensitive nose and skin that would break out into a rash at the slightest provocation, I've been making my own cosmetics and cleaning products since high school. I hoped that avoiding these environmental toxins would not only improve my health, but be better for the environment and save me some money compared to buying high-end non-toxic products at a health-foods store. Whatever your reasons, making your own household products is easier than you might think. My e-book 
A Clean Space
 has all the tips, tricks, and recipes you need to get started–and it's only
$6.99
!
Instructions
Sprinkle the salmon with salt and pepper on each side, then heat a large skillet over medium-high heat and coat with coconut oil.

Cook the salmon about 4 minutes on each side, until there is a golden-brown, crispy skin on the outside and the inside has cooked through.

Meanwhile, in a small saucepan over high heat, bring the vinegar, aminos, honey, ginger, and wasabi to a boil, then reduce the heat to medium-high and stir until the sauce thickens, about 5 minutes. Set aside.

Serve the salmon topped with the sauce and green onions for garnish.