I've never had a great relationship with seafood. In fact, for most of my life, sushi was the only way I'd eat it. Ideally, a roll with cream cheese, avocado, and lots of sauce to mask the flavor. Well, I branched out a bit after taking on the autoimmune protocol, considering that seafood is one of the best sources of B vitamins and omega-3 fats. This Salmon with Wasabi Sauce is a throwback to my sushi days, a rich and hearty dish that packs some punch. If you can't find AIP-friendly wasabi and haven't done reintroductions yet, you can substitute it with AIP-friendly horseradish or even some fresh ginger.
Keep Your Health on Track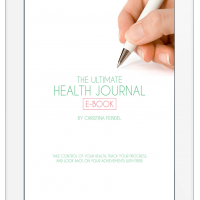 Whether you're starting the autoimmune protocol, a new medication, an exercise routine or trying to get to the bottom of your headaches or indigestion, cataloging your activities and symptoms is a great way to gauge your progress.
The Ultimate Health Journal
can help you stay on track with diet, fitness, and other lifestyle changes you have begun or been prescribed, notice patterns in your health and lifestyle so you can enact positive changes, and provide a valuable tool for you, your family, and your healthcare team. I would never have noticed that cinnamon makes me sneeze or dairy gives me hiccups without keeping a written record during my elimination diet, which helped me see the patterns that solved my problems! The ebook is available as a digital download with printable template for 
$6.99
.
Instructions
Sprinkle the salmon with salt and pepper on each side, then heat a large skillet over medium-high heat and coat with coconut oil.

Cook the salmon about 4 minutes on each side, until there is a golden-brown, crispy skin on the outside and the inside has cooked through.

Meanwhile, in a small saucepan over high heat, bring the vinegar, aminos, honey, ginger, and wasabi to a boil, then reduce the heat to medium-high and stir until the sauce thickens, about 5 minutes. Set aside.

Serve the salmon topped with the sauce and green onions for garnish.