I've never had a great relationship with seafood. In fact, for most of my life, sushi was the only way I'd eat it. Ideally, a roll with cream cheese, avocado, and lots of sauce to mask the flavor. Well, I branched out a bit after taking on the autoimmune protocol, considering that seafood is one of the best sources of B vitamins and omega-3 fats. This Salmon with Wasabi Sauce is a throwback to my sushi days, a rich and hearty dish that packs some punch. If you can't find AIP-friendly wasabi and haven't done reintroductions yet, you can substitute it with AIP-friendly horseradish or even some fresh ginger.
Are you suffering from adrenal fatigue?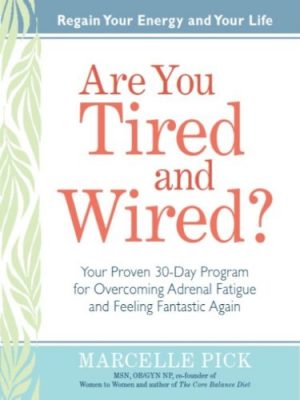 Are You Tired and Wired? is one of my favorite books on adrenal fatigue with chronic illness. It's a comprehensive yet straightforward examination of the factors at work and home that contribute to chronic adrenal dysfunction and the diet, lifestyle adjustments, and emotional reprogramming that can help fix it. A healthcare provider with a focus on women's health, Marcelle Pick will help you identify what type of adrenal dysfunction you suffer from and provide an easy-to-follow, science-based program to help you restore balance to your life. I found it extremely helpful with my own chronic fatigue!
Instructions
Sprinkle the salmon with salt and pepper on each side, then heat a large skillet over medium-high heat and coat with coconut oil.

Cook the salmon about 4 minutes on each side, until there is a golden-brown, crispy skin on the outside and the inside has cooked through.

Meanwhile, in a small saucepan over high heat, bring the vinegar, aminos, honey, ginger, and wasabi to a boil, then reduce the heat to medium-high and stir until the sauce thickens, about 5 minutes. Set aside.

Serve the salmon topped with the sauce and green onions for garnish.