I love roasted strawberries. Especially with balsamic vinegar and honey. It might just be my favorite way to eat any kind of fruit–watermelon and cantaloupe also pair well with balsamic vinegar, though I don't generally roast them. Anyway, roasted strawberries are a wonderful condiment to a number of things. Pancakes and waffles, ice cream and yogurt, toast and bagels. In this Roasted Strawberry Cream Soda, I pair them with coconut milk and sparkling water for a tasty, refreshing treat that's sure to satisfy kids of all ages. With our all-over-the-place winter weather, I've been vacillating between hot chocolate and lemonade cravings while still wanting to try something new. With no dairy and as much or little honey as you want, it's a way healthier alternative to those other carbonated beverages you might be tempted to reach for! And if you're in the mood for something other than strawberries (or just don't want to turn on the oven) but still want an ice-cold treat, I have lots of other options for you:
Looking for AIP-Friendly Breakfast Recipes?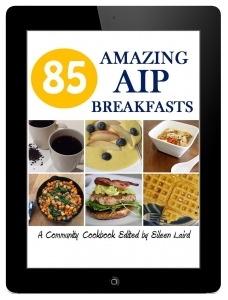 What to eat for breakfast is one of the most common questions I get from people starting the autoimmune protocol. I understand completely: With all my old staples off the table, breakfast was my biggest challenge, too. Well, now there's an easy answer. 85 Amazing AIP Breakfasts is a community e-cookbook featuring dozens of breakfast-friendly autoimmune protocol recipes from some of your favorite bloggers. With coffee substitutes, comforting teas, sausage, waffles, stir-fries, soups, hash, muffins, and porridge, 85 Amazing AIP Breakfasts has just about every one of your breakfast needs covered, sweet and savory alike. Many of the recipes can even be adapted for a low-FODMAP diet! The e-cookbook is available on editor Eileen Laird's website.
Nutrition Facts
Calories:
96
kcal
Carbohydrates:
12
g
Protein:
1
g
Fat:
5
g
Saturated Fat:
5
g
Polyunsaturated Fat:
0.1
g
Monounsaturated Fat:
0.02
g
Sodium:
21
mg
Potassium:
93
mg
Fiber:
1
g
Sugar:
10
g
Vitamin C:
46.2
mg
Calcium:
10
mg
Iron:
0.4
mg
Instructions
Preheat the oven to 400 degrees F.

Combine the strawberries, honey, vinegar, and water in a baking dish and roast for 20 minutes.

Puree until smooth.

To serve, fill 12-ounce glasses with ice, add 1/4 of the strawberry mixture, 1/8 cup coconut milk, and top off with sparkling water.