I was never really into straight coffee, even when it was the trendy thing to do on the way into class or on a first date or because you stayed up all night cramming for a test… but I've always been a sucker for a good mocha latte. It's the lure of chocolate, I suppose. I'd eat just about anything if chocolate was involved and I know I'm not the only one. (Case in point: chocolate-covered insects. And raisins.) Coffee and cocoa make a heck of a duo and I love starting a cool winter day curled up with one of these bad boys. Yes, even on the AIP when I can't have coffee OR cocoa OR milk! With coconut milk, carob powder, and a simple homemade herbal coffee concoction, this is an indulgence you don't have to feel guilty about. Of course, those of you who aren't sensitive to dairy, chocolate, or coffee can feel free to use those instead. And during the warmer months, you can easily turn it into an iced mocha by using refrigerated "coffee" and adding some ice to the blender!
All-natural, organic makeup and skin care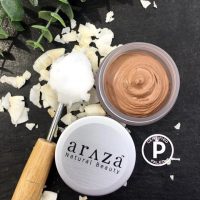 Araza Natural Beauty, founded by two sisters with Celiac disease, is the first Paleo-certified beauty company to offer a full range of products for skin, eyes, cheeks, and lips–all of which are additive, dairy, and gluten free. In all my years of experimenting with natural makeup, this has become my favorite, fool-proof brand for everyday looks!
Nutrition Facts
Calories:
298
kcal
Carbohydrates:
22
g
Protein:
1
g
Fat:
21
g
Saturated Fat:
18
g
Polyunsaturated Fat:
0.01
g
Monounsaturated Fat:
0.005
g
Sodium:
31
mg
Potassium:
19
mg
Sugar:
14
g
Calcium:
50
mg
Iron:
0.5
mg
Instructions
Combine all ingredients in a blender and process until smooth.