From the childhood summers at my grandparents' house in Florida, I remember climbing their orange tree, reading in the living room, and rifling through the collection of sodas they kept in a cupboard in the sunroom. Not only were they not cold, but the vast majority of them were ginger ale–with the occasional cream soda or root beer I would quickly snatch up for myself. Only to come back the next day and have to settle for a gross, spicy ginger ale. Strange how our tastebuds change over time. I was a fairly picky eater as a kid, with a roaring sweet tooth. I wouldn't even eat strawberries unless they were covered in sugar (or chocolate). Now they're one of my favorite sweets and ginger ale is a staple in my fridge during these hot summer months. I just love the complexity of flavor the ginger, honey, and mint provide together. It's not only refreshing, but very soothing to the stomach.
Looking for AIP-Friendly Breakfast Recipes?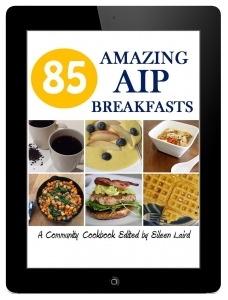 What to eat for breakfast is one of the most common questions I get from people starting the autoimmune protocol. I understand completely: With all my old staples off the table, breakfast was my biggest challenge, too. Well, now there's an easy answer. 85 Amazing AIP Breakfasts is a community e-cookbook featuring dozens of breakfast-friendly autoimmune protocol recipes from some of your favorite bloggers. With coffee substitutes, comforting teas, sausage, waffles, stir-fries, soups, hash, muffins, and porridge, 85 Amazing AIP Breakfasts has just about every one of your breakfast needs covered, sweet and savory alike. Many of the recipes can even be adapted for a low-FODMAP diet! The e-cookbook is available on editor Eileen Laird's website.
Ingredients
1 1/2

cups

water

2

tablespoons

honey

1 1/2

inches

ginger

(peeled and grated)

1

tablespoon

mint

(chopped)

ice
Equipment
Nutrition Facts
Calories:
8
kcal
Carbohydrates:
2
g
Protein:
0.1
g
Fat:
0.01
g
Saturated Fat:
0.003
g
Polyunsaturated Fat:
0.01
g
Monounsaturated Fat:
0.001
g
Sodium:
1
mg
Potassium:
9
mg
Fiber:
0.1
g
Sugar:
2
g
Vitamin A:
50
IU
Vitamin C:
0.8
mg
Calcium:
4
mg
Iron:
0.1
mg
Instructions
In a medium saucepan, bring the water to a boil over high heat, then add the honey and ginger and reduce the heat to medium. Simmer until reduced by half, about 30 minutes.

Remove from heat and add the mint, steeping for 10 minutes.

Strain the syrup into a measuring cup with a pour spout.

To serve, pour 1 tablespoon of syrup into an 8-ounce glass, fill with ice, then top with sparkling water.