From the childhood summers at my grandparents' house in Florida, I remember climbing their orange tree, reading in the living room, and rifling through the collection of sodas they kept in a cupboard in the sunroom. Not only were they not cold, but the vast majority of them were ginger ale–with the occasional cream soda or root beer I would quickly snatch up for myself. Only to come back the next day and have to settle for a gross, spicy ginger ale. Strange how our tastebuds change over time. I was a fairly picky eater as a kid, with a roaring sweet tooth. I wouldn't even eat strawberries unless they were covered in sugar (or chocolate). Now they're one of my favorite sweets and ginger ale is a staple in my fridge during these hot summer months. I just love the complexity of flavor the ginger, honey, and mint provide together. It's not only refreshing, but very soothing to the stomach.
Struggling with thyroid disease?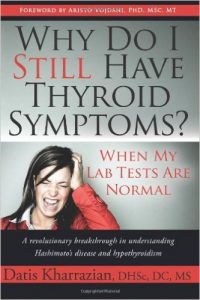 Why Do I Still Have Thyroid Symptoms? by functional medicine practitioner Datis Kharrazian is single-handedly responsible for my improved health over the past few years. It introduced me to the connection between autoimmune disease and lifestyle factors like diet at a time when my doctors were telling me there was nothing wrong with my thyroid even though I had high antibodies. This book gave me the information I needed to get the right tests ordered and seek proper treatment. It's a must-have guide for anyone who has already been diagnosed with thyroid disease, who is at risk due to family history, or who strongly suspects they may have it but isn't sure where to start. I can't recommend it enough!
Ingredients
1 1/2

cups

water

2

tablespoons

honey

1 1/2

inches

ginger

(peeled and grated)

1

tablespoon

mint

(chopped)

ice
Equipment
Nutrition Facts
Calories:
8
kcal
Carbohydrates:
2
g
Protein:
0.1
g
Fat:
0.01
g
Saturated Fat:
0.003
g
Polyunsaturated Fat:
0.01
g
Monounsaturated Fat:
0.001
g
Sodium:
1
mg
Potassium:
9
mg
Fiber:
0.1
g
Sugar:
2
g
Vitamin A:
1
%
Vitamin C:
1
%
Calcium:
0.4
%
Iron:
0.4
%
Instructions
In a medium saucepan, bring the water to a boil over high heat, then add the honey and ginger and reduce the heat to medium. Simmer until reduced by half, about 30 minutes.

Remove from heat and add the mint, steeping for 10 minutes.

Strain the syrup into a measuring cup with a pour spout.

To serve, pour 1 tablespoon of syrup into an 8-ounce glass, fill with ice, then top with sparkling water.