I was never much of a tea drinker before starting the autoimmune protocol. When I was a kid, it was a lot of soda and milk, and I had a brief love affair with coffee in college, but tea? Never. If I wanted something warm and comforting, I'd go for hot chocolate or mulled apple cider. Nowadays, there's nothing I appreciate more than an herbal, fruity tea like this Honey Citrus Mint Tea. Based on a similar beverage from the Starbucks menu, this herbal tea is wonderfully soothing, the perfect balm for a sore throat or cold, gloomy day. Add a few drops of peppermint extract or edible essential oil for an even mintier drink!
Struggling with thyroid disease?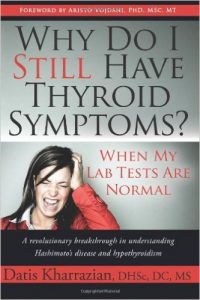 Why Do I Still Have Thyroid Symptoms?
by functional medicine practitioner Datis Kharrazian is single-handedly responsible for my improved health over the past few years. It introduced me to the connection between autoimmune disease and lifestyle factors like diet at a time when my doctors were telling me there was nothing wrong with my thyroid even though I had high antibodies. This book gave me the information I needed to get the right tests ordered and seek proper treatment. It's a must-have guide for anyone who has already been diagnosed with thyroid disease, who is at risk due to family history, or who strongly suspects they may have it but isn't sure where to start. I can't recommend it enough!
Instructions
In a small saucepan or kettle over medium heat, bring the water, lemon juice, and orange juice to a simmer.

Remove from heat and add the tea bags. Cover and steep for at least 5 minutes.

Pour into mugs to serve and add honey to taste.