I was never much of a tea drinker before starting the autoimmune protocol. When I was a kid, it was a lot of soda and milk, and I had a brief love affair with coffee in college, but tea? Never. If I wanted something warm and comforting, I'd go for hot chocolate or mulled apple cider. Nowadays, there's nothing I appreciate more than an herbal, fruity tea like this Honey Citrus Mint Tea. Based on a similar beverage from the Starbucks menu, this herbal tea is wonderfully soothing, the perfect balm for a sore throat or cold, gloomy day. Add a few drops of peppermint extract or edible essential oil for an even mintier drink!
Don't Feel Like Cooking?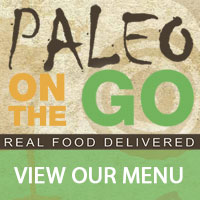 That's okay! Everyone needs a break sometimes, especially during busy times like the holidays or when you're sick or stressed out. When I find myself unwilling or unable to prepare healthy meals myself, I turn to 
Paleo on the Go
. Yes, they have autoimmune protocol-friendly options! With tons of nutritious, delicious, pre-packaged meals,
Paleo on the Go
's ready-to-go, frozen courses are perfect for those days you just don't want to be in the kitchen. They even offer an appreciable selection of AIP-friendly treats, including toaster pastries!
Instructions
In a small saucepan or kettle over medium heat, bring the water, lemon juice, and orange juice to a simmer.

Remove from heat and add the tea bags. Cover and steep for at least 5 minutes.

Pour into mugs to serve and add honey to taste.