I was never much of a tea drinker before starting the autoimmune protocol. When I was a kid, it was a lot of soda and milk, and I had a brief love affair with coffee in college, but tea? Never. If I wanted something warm and comforting, I'd go for hot chocolate or mulled apple cider. Nowadays, there's nothing I appreciate more than an herbal, fruity tea like this Honey Citrus Mint Tea. Based on a similar beverage from the Starbucks menu, this herbal tea is wonderfully soothing, the perfect balm for a sore throat or cold, gloomy day. Add a few drops of peppermint extract or edible essential oil for an even mintier drink!
Looking for more easy AIP recipes?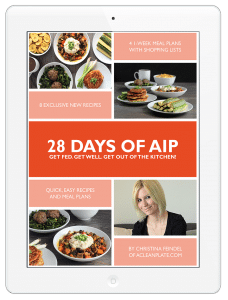 I know diet change can feel overwhelming. I started the autoimmune protocol at a time when only four other people were writing about it, and over the years, I've striven to give you the resources I wish I'd had when I got started. Not just recipes, but ways to implement them. My first ebook 28 Days of AIP is a meal plan that will help you get going (or get back on the wagon) with as little fuss as possible. With a variety of simple, delicious recipes, plenty of leftovers so you don't spend all your free time in the kitchen, and shopping lists ready to go, all you have to do is follow the plan, then sit down and enjoy your meal! It's available as a digital download for $9.99.
Instructions
In a small saucepan or kettle over medium heat, bring the water, lemon juice, and orange juice to a simmer.

Remove from heat and add the tea bags. Cover and steep for at least 5 minutes.

Pour into mugs to serve and add honey to taste.