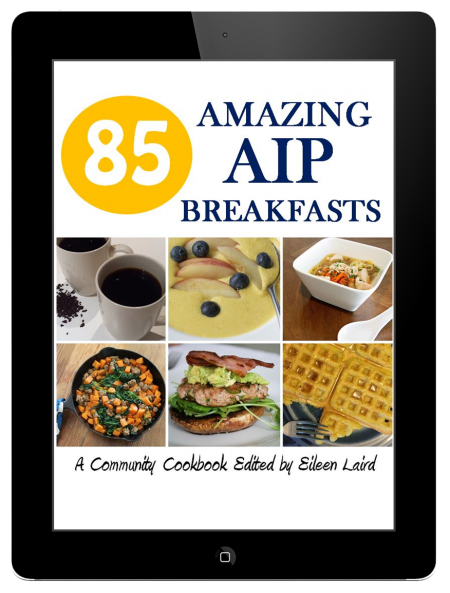 85 Amazing AIP Breakfasts answers one of the most frequently-asked autoimmune protocol questions: "What on Earth do I eat for breakfast?!" It is a community cookbook featuring some of the best autoimmune protocol breakfast recipes from twenty-six bloggers, edited by Eileen Laird of Phoenix Helix. Inside, you'll find recipes for beverages like shakes, smoothies, "coffee" (recipe below–mine is served with a dollop of whipped coconut cream!), and tea; traditional breakfast dishes like "porridge", "cereal", "oatmeal", pancakes, rolls, waffles, and muffins; and savory meat-and-veggie dishes like soups, hash, stir-fries, and patties. This book really has you covered!
After a brief primer on the autoimmune protocol, Eileen shares tips for a healthy breakfast, like focusing on nutrient-density and saving treats and sweets for special occasions. Of the 85 recipes, 33 are never-before-seen and exclusive to this e-book, meaning that you won't find them anywhere else. The only flaw is that the recipes do not include prep or cook times, so you will have to read the dish's instructions to find out whether or not you have time to make it. In the appendix, Eileen includes tips for modifying the recipes (where possible) for a low-FODMAP, GAPS or SCD, low-histamine, or coconut-free diet, plus resources for further reading and information on all of the contributors in case you want to look any of them up!
If you've been wondering what to eat on the autoimmune protocol or could use some new, innovative recipes to liven up your diet, 85 Amazing AIP Breakfasts was written with you in mind. The recipes are creative, comforting, and best of all, healthy. It is a wonderful resource for anyone missing traditional breakfast foods and looking for healthier alternatives!
Nutrition Facts
Calories:
43
kcal
Carbohydrates:
10
g
Protein:
0.1
g
Fat:
0.01
g
Saturated Fat:
0.0001
g
Polyunsaturated Fat:
0.0001
g
Sodium:
5
mg
Potassium:
57
mg
Fiber:
1
g
Sugar:
8
g
Vitamin A:
15
IU
Calcium:
20
mg
Iron:
0.1
mg
Instructions
Combine all ingredients in a small saucepan and bring to a boil.

Lower heat and allow the mixture to simmer for 5 minutes.

Remove from heat, strain and serve.