It's a common enough problem for the average person, but add autoimmune disease to the usual factors of stress, travel, and normal indigestion and constipation can be a constant, uncomfortable companion.
Maybe you have gut dysbiosis that tends toward blockages. Maybe you have nerve damage caused by chronic constipation when you were younger. Or maybe changing your diet has just thrown things for a loop.
I've struggled with constipation my entire life. As a kid, laxatives and suppositories were a regular part of my routine. I just never had the urge to go, and often, weeks would pass between movements. Now, I've got permanent nerve damage that results in very low motility. Even when I do everything right, I usually need help getting things moving.
But not many of the usual treatments are autoimmune-friendly. In fact, most of them work by irritating the gut! That's the exact opposite of what we're trying to do on the autoimmune protocol. So what are some AIP-friendly options?
What to do about constipation with autoimmune disease:
Eat tons of plants! You should be doing this on the AIP anyway, but it's easy to fall behind on your vegetable intake. 9 cups a day is the general recommendation. That fiber will help keep your gut healthy.
Make sure you're drinking enough water. Dehydrated bowels don't move.
Include probiotics in your diet, whether from supplements or fermented foods like sauerkraut, kefir, and kombucha.
Get some exercise. Spinal twists that move the gut can be helpful, but so is gentle cardio like walking.
If you have SIBO, avoid foods high in starch or sugar. You may have been prescribed a low-FODMAP diet; stick to it!
Add some ginger to your diet. A hot cup of ginger tea in the morning and throughout the day often gets things moving for me.
Take a magnesium supplement or Milk of Magnesia with lots of water before bed.
If things are really bad, look for a glycerin-based suppository or saline enema.
Use a squatty potty, small stool, or even just a box to elevate your feet off the ground when you're on the toilet. The squatting position relieves some of the strain on your colon so "going" will be a bit more comfortable.
Still, there is a point at which a doctor should be consulted and other measures should be considered. Severe constipation can be deadly and in chronic cases, the long-term damage done by constipation can be much worse than the short-term damage caused by laxatives! If none of the above are working after a few days, please don't hesitate to talk to your healthcare professional.
The most important thing is vigilance. It doesn't help much to start taking magnesium, probiotics, or ginger tea if it's already been a week since your last bowel movement. You need to be proactive on a daily basis. I actually have a reminder on my phone that goes off at 8pm to ask me if I had a bowel movement that day (glamorous, I know). If the answer is no, I take some magnesium and drink plenty of water before bed. And in the morning, reach for a high-fiber meal instead of something starchy and sugary.
Need help getting enough veggies?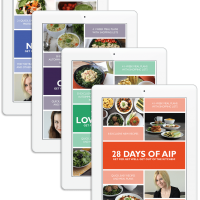 My meal plans are already portioned to include the recommended 9 cups per day. They cover four weeks and come with shopping lists, so all you have to do is cook and eat!