Brussels sprouts: Love 'em or hate 'em, there is no in-between. At least, that's how it seems. Every time I mention them, I'm met with cries of disgust. And yet they're one of the most nutritious vegetables out there. Isn't that always how it goes? The better something is for you, the less appetizing it is. Well, after many years of force-feeding myself Brussels sprouts (and having to eat my husband's servings, too, because he wouldn't touch them), I've mastered all the ways to make them palatable to my household. Trick number one? Always include bacon. Everything is more appealing with bacon in it. Trick number two is to add tart–not bitter–flavors like lemon, cranberries, or orange that will draw some of the attention away from the flavor of Brussels sprouts. Trick number three is to go in the opposite direction and include sweets like honey, raisins, or maple syrup, but that's not the direction I went in this recipe. This Citrus-Bacon Brussels Sprouts Salad is one of just a few Brussels sprouts recipes that have become staples for me and which I actually look forward to eating. I hope you enjoy it, too!
Struggling with thyroid disease?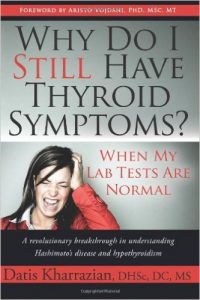 Why Do I Still Have Thyroid Symptoms? by functional medicine practitioner Datis Kharrazian is single-handedly responsible for my improved health over the past few years. It introduced me to the connection between autoimmune disease and lifestyle factors like diet at a time when my doctors were telling me there was nothing wrong with my thyroid even though I had high antibodies. This book gave me the information I needed to get the right tests ordered and seek proper treatment. It's a must-have guide for anyone who has already been diagnosed with thyroid disease, who is at risk due to family history, or who strongly suspects they may have it but isn't sure where to start. I can't recommend it enough!
Ingredients
Salad
8

strips

bacon

(cooked and crumbled)

1

small

shallot

(minced)

1

pound

Brussels sprouts

(shaved)

1/3

cup

dried cranberries
Instructions
Combine all ingredients in a large mixing bowl and toss to combine, then serve.