Bone broth is kind of a Paleo staple, especially helpful to those of us with autoimmune and gastrointestinal problems. It's rich in all kinds of soothing and supportive minerals, and a lot of people I know — even some other ex-vegans — swear by it. This was actually my first time handling a whole chicken, and while it wasn't exactly comfortable — I am always going to have those animal-loving sentimentalities that drove me to veganism in the first place — it was worth it. And, I know it is something we'll get used to.
Are you suffering from adrenal fatigue?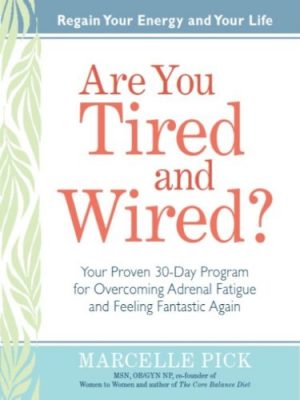 Are You Tired and Wired? is one of my favorite books on adrenal fatigue with chronic illness. It's a comprehensive yet straightforward examination of the factors at work and home that contribute to chronic adrenal dysfunction and the diet, lifestyle adjustments, and emotional reprogramming that can help fix it. A healthcare provider with a focus on women's health, Marcelle Pick will help you identify what type of adrenal dysfunction you suffer from and provide an easy-to-follow, science-based program to help you restore balance to your life. I found it extremely helpful with my own chronic fatigue!
Total Time:
2
days
5
minutes
Nutrition Facts
Calories:
344
kcal
Carbohydrates:
4
g
Protein:
50
g
Fat:
13
g
Saturated Fat:
4
g
Polyunsaturated Fat:
3
g
Monounsaturated Fat:
5
g
Cholesterol:
142
mg
Sodium:
1138
mg
Potassium:
467
mg
Fiber:
1
g
Sugar:
1
g
Vitamin A:
7
%
Vitamin C:
3
%
Calcium:
2
%
Iron:
17
%
Instructions
Combine the spices, then rub them over the chicken.

Throw the onion into a slow-cooker, top with the chicken, and cook on low for 2 hours.

Remove the meat from the bones and cartilage, then toss the bones and cartilage back into the pot with any vegetables you may need to get rid of or vegetable refuse like onion skins, carrot ends, green leeks, etc. (this technically turns our broth (which is just bones) into a stock (which has veggies and/or meat), but whatevs), and enough water to cover 2" over the top. Cook on high for about ten minutes.

Pour out all the water. This discards all the "scum" that has already cooked off of the bones. Refill the pot with fresh water and add a splash of apple cider vinegar. Cook another 24-48 hours on low. (Meanwhile, eat the meat!)

Strain the liquid into a jar, preferably into single-serving jars so that you can freeze the ones you won't be using in the next few days. A good-quality broth will gel in the fridge, and liquefy upon re-heat. Skim the fat off the top and discard it (poultry fat is high in omega-6s even when it is pastured, so I don't use it) before using your broth however you like!