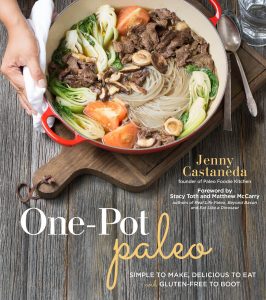 Feeling overwhelmed by Paleo cooking or just looking for easy weeknight meals that taste great to round out your recipe collection? One-Pot Paleo by Jenny Castaneda is the perfect combination of simple, beautiful, and flavorful, featuring nearly 100 recipes,many of which are complete meals, that only require one pot, bowl, or pan to make, which means filling meals that don't require much cleanup. That's my kinda cookbook!
With a huge variety of stir-fries, casseroles and bakes, soups and stews, salads, and broiled or grilled dishes to choose from and an appetizing mix of classic and exotic dishes, One-Pot Paleo has something for everyone and every occasion. Keep it simple with Chicken Salad Wraps, Meatball Minestrone, or Oven-Roasted BBQ Ribs. Spice things up with a Cajun-Style Shrimp Feast or Sweet and Sour Pork. Impress guests with Blackened Trout with Mango Papaya Salsa or Austrian Pancake Bites, or please the kids with Plantain Pizza or Open-Faced Sloppy Joes. Whatever you choose, you'll wind up with a delicious dish that was deceptively easy to make. Most of the recipes, no matter how exotic, use everyday Paleo ingredients, with just a few exceptions for some specialty items like coconut aminos and kelp noodles, and there are an abundance of nutrient-dense seafood and offal recipes. Some of the recipes do include dairy or rice, and Jenny has provided a very helpful substitution guide for those who don't tolerate them. There's also a brief guide to meal prep and planning and an allergen index for grain-, dairy-, nut-, and egg-free recipes.
Jenny's Loaded Spanish Tortilla is an interesting blend of onion, sundried tomatoes, potatoes, eggs, and prosciutto. The only issue I had with this recipe is that my eggs took forever to set. After you pour them into the pan, Jenny asks you to cook them covered on low heat for about seven minutes, or until firm. Seven minutes passed… and then another seven… and another seven…. Forty-five minutes later, my eggs were finally set. I suspect that my stove's "low heat" is more like "lukewarm" and I might have had quicker results if I'd raised the temperature to medium-low or medium. Other than that, it's a straightforward and relatively quick recipe, and a fun new way to use potatoes! They are definitely the dominant flavor in this dish, despite all the eggs, with the prosciutto and tomatoes adding just a tiny bit of salty, savory zing. I offered up salsa and ketchup as condiments, and both were received with enthusiasm. (I myself used ketchup, because I don't tolerate peppers well but do okay with tomatoes.)
I've actually had requests for a Paleo chilaquiles recipe before, and now, with Jenny's Plantain Chilaquiles, I know where to send people! This recipe involves mixing shredded chicken, plantain chips, red and green salsas, and eggs. Assuming you already have salsa made or can buy some at the store, it only takes about ten minutes of actual work before you pop it in the oven and wait. I've never had chilaquiles before, so had no idea what to expect. The result is a dense, dry bake sporting mild flavors of salsa and chicken. Topped with extra salsa, green onion, cilantro, and avocado, this becomes a hearty meal that can be as mild or hot as you like depending on the type of salsa you use. We all thoroughly enjoyed it!
What I love about Japanese cooking is that the ingredients and cooking method are almost always very simple and straightforward… and you're almost always surprised that something that easy could have so much depth of flavor. With slightly bitter greens, sweet tomato slices, umami-rich mushrooms, and savory beef served over a bed of flavorless sweet potato noodles in a sauce of sweetened broth and coconut aminos… oh. my. goodness. Every bite of Jenny's Japanese Hot Pot, depending on what you spear on your fork, is different. And I loved every single one. If you can't find sweet potato noodles and tolerate rice, this recipe would work just as well with rice noodles. It comes together in about twenty minutes and easily yields four servings, making it one of my new favorite weeknight meals! This is actually the dish featured on the cover of the book, and my photo by comparison does not do the dish justice!
Other dishes I'm looking forward to making? Crab and Shrimp-Topped Salmon, Chicken Biryani, Aromatic Mussels, and, oh, pretty much all of them…. One-Pot Paleo is the perfect marriage of simple and satisfying and the perfect resource for anyone looking to save time in the kitchen while still eating nutrient-dense, flavorful foods. With an emphasis on meat-and-vegetable dishes that are complete meals, eating Paleo has never been easier!
Ingredients
1

tablespoon

coconut oil

3

cloves

garlic

(minced)

1

cup

onion

(chopped)

1

pound

ground pork

1

cup

carrot

(chopped)

3

tablespoons

coconut aminos

1

teaspoon

fish sauce

1/4

teaspoon

ground black pepper

(omit for AIP)

2

large

eggs

(omit for AIP)

4

cups

cauliflower

(riced)

1/2

cup

green onion

(chopped)
Equipment
Nutrition Facts
Calories:
538
kcal
Carbohydrates:
30
g
Protein:
38
g
Fat:
30
g
Saturated Fat:
13
g
Polyunsaturated Fat:
3
g
Monounsaturated Fat:
12
g
Cholesterol:
199
mg
Sodium:
579
mg
Potassium:
1526
mg
Fiber:
12
g
Sugar:
12
g
Vitamin A:
10200
IU
Vitamin C:
171.6
mg
Calcium:
120
mg
Iron:
3.1
mg
Instructions
Add ghee to a wok over medium-high heat. Add the garlic and onions. Sauté for 3 minutes. Add the ground pork and cook for 7 to 8 minutes while breaking apart big pieces with the back of a wooden spoon.

Stir in the carrots and season with the coconut aminos, fish sauce and black pepper. Remove from the wok and set aside in a bowl. Crack the eggs into the wok and scramble for 1 minute. Return the pork mixture to the pan and stir together with the eggs. Add the cauliflower rice and green onions. Mix until everything is thoroughly combined. Cook for 5 minutes until cauliflower is soft but not mushy.

Top with more green onions before serving.