I never liked shrimp. One of my earliest memories is feeling violently ill at a seafood restaurant, and for the longest time just the smell of seafood made me sick to my stomach. But much to my surprise, I wound up liking shrimp once I gave it a fair shot. This recipe is one of my favorites. It's got a mild spicy-sweet flavor that pairs well with just about everything. Serve it on a salad, as a side to roasted or grilled veggies, or have it as an appetizer with my ranch dip!
Make your own non-toxic cosmetics!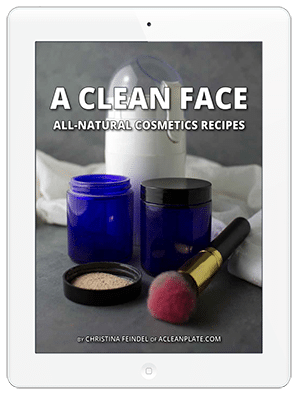 I may make my living as a food blogger, but journey toward a more health-conscious lifestyle actually began with making my own cosmetics while I was still in high school–many years before I started "clean eating". Desperate to get a handle on my sensitive skin and nose, I was also hoping for cheaper, more eco-friendly alternatives to store-bought products. If you're in the same boat, making your own cosmetics and toiletries is easier than you might think! My e-book A Clean Face will give you the tools you need to get started for just $9.99.
Total Time:
2
hours
6
minutes
Nutrition Facts
Calories:
254
kcal
Carbohydrates:
8
g
Protein:
32
g
Fat:
10
g
Saturated Fat:
2
g
Polyunsaturated Fat:
2
g
Monounsaturated Fat:
6
g
Cholesterol:
235
mg
Sodium:
698
mg
Potassium:
295
mg
Fiber:
1
g
Sugar:
3
g
Vitamin A:
350
IU
Vitamin C:
9.1
mg
Calcium:
140
mg
Iron:
4.9
mg
Instructions
Combine all ingredients in an airtight container and refrigerate for two hours.

Preheat the oven to broil, set a rack about 4-6" from the element, and skewer the shrimp on metal or wet bamboo skewers.

Broil for 2-3 minutes per side on a baking sheet with a wire rack, then serve hot.