I love pairing balsamic vinegar and fresh basil with fruit, usually strawberries (as evidenced by my Strawberry Basil Balsamic Ice Cream, which is still one of my all-time favorite recipes, and one I could eat every day without getting sick of). But watermelon works just as well with the tart, earthy combination of balsamic vinegar and basil, especially in frozen treats! This Balsamic Watermelon Slushie is a wonderful warm-weather refreshment that's a nice change of pace from sugar-laden lemonade, iced tea, or margaritas, especially if you (like me) can't do caffeine or alcohol. It's the kind of treat with a flavor profile that's just sophisticated enough to feel very adult, even though slushies are a decidedly childhood treat. I know that many of you are currently suffering through one heck of a hot Australian summer, and hope you find that this takes some of the edge off. We're having an unseasonably warm winter here in Texas; I've been wearing shorts most of the week and though we haven't had to turn on the AC, we aren't bundled up, either. This Christmas sure ain't white, and we're more likely to go swimming than sledding this afternoon (not that there's ever any sledding in Texas, but you catch my drift)… which makes me sad, not only because that's not the Christmas season I'm used to, but because our climate has changed so dramatically these past few years you start to wonder if Texas will see another snow-flecked Christmas in your lifetime. I miss cozying up by the fire with a mug of hot chocolate this time of year, or baking non-stop for the warmth of the oven as well as the comfort of baked goods, but you've gotta look on the bright side: At least the weather's comfortable, and a good slushie goes down a treat any time of year when the sun is shining–and this Balsamic Watermelon Slushie is by far the best one I've ever had. If you happen to not like basil (gasp!), mint works just as well!
Keep it Simple with Freezer Cooking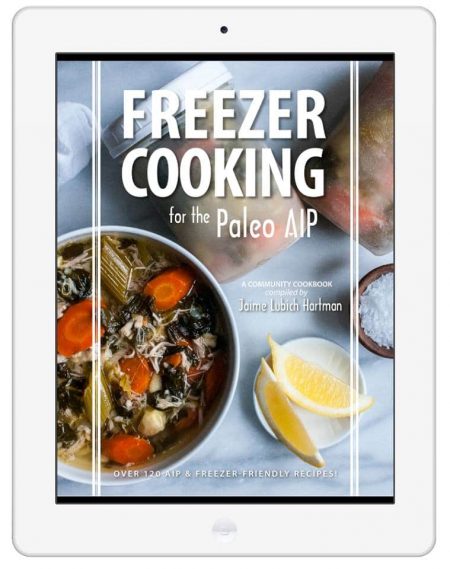 Preparing meals ahead of time and keeping them on hand in the freezer is one of the best ways to make any diet change sustainable. You'll wind up spending less time in the kitchen most days and will always have something ready to go when hunger or cravings strike. With Freezer Cooking for the Paleo AIP, you'll get 123 tried-and-true recipes from 30 of your favorite autoimmune protocol bloggers to help you out. Designed for batch cooking and advance prep, each recipe includes instructions for storing, freezing, and reheating it. There are recipes for every meal of the day and recipes for special occasions, too! The ebook is now available as a digital download for $18.90.
Nutrition Facts
Calories:
62
kcal
Carbohydrates:
16
g
Protein:
1
g
Fat:
0.2
g
Saturated Fat:
0.02
g
Polyunsaturated Fat:
0.1
g
Monounsaturated Fat:
0.05
g
Sodium:
2
mg
Potassium:
149
mg
Fiber:
1
g
Sugar:
14
g
Vitamin A:
15
%
Vitamin C:
18
%
Calcium:
1
%
Iron:
2
%
Instructions
Combine all ingredients in a blender and process until you have a slush.