I don't have a lot of experience with eggs. I never really liked them as a kid, then gave them up when I went vegan. I went straight into the AIP from there and finally added the suckers back in about a year ago. Hard-boiled eggs always grossed me out, but Noah loves them, so I thought I'd try some recipes that had more than just hard-boiled egg to them. Enter egg salad! I love the creaminess of the mayo with crunchy bacon and tart olives. You can count me a hard-boiled egg lover now!
Looking for AIP-Friendly Breakfast Recipes?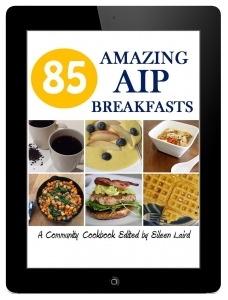 What to eat for breakfast is one of the most common questions I get from people starting the autoimmune protocol. I understand completely: With all my old staples off the table, breakfast was my biggest challenge, too. Well, now there's an easy answer. 85 Amazing AIP Breakfasts is a community e-cookbook featuring dozens of breakfast-friendly autoimmune protocol recipes from some of your favorite bloggers. With coffee substitutes, comforting teas, sausage, waffles, stir-fries, soups, hash, muffins, and porridge, 85 Amazing AIP Breakfasts has just about every one of your breakfast needs covered, sweet and savory alike. Many of the recipes can even be adapted for a low-FODMAP diet! The e-cookbook is available on editor Eileen Laird's website.
Nutrition Facts
Calories:
216
kcal
Carbohydrates:
3
g
Protein:
14
g
Fat:
16
g
Saturated Fat:
5
g
Polyunsaturated Fat:
3
g
Monounsaturated Fat:
6
g
Cholesterol:
333
mg
Sodium:
516
mg
Potassium:
173
mg
Fiber:
0.3
g
Sugar:
1
g
Vitamin A:
500
IU
Vitamin C:
0.8
mg
Calcium:
30
mg
Iron:
1.3
mg
Instructions
Cook the bacon until crispy, then crumble it into bits.

Combine all ingredients in a lidded bowl or dish and mix well.

Refrigerate until chilled, then serve.