I don't have a lot of experience with eggs. I never really liked them as a kid, then gave them up when I went vegan. I went straight into the AIP from there and finally added the suckers back in about a year ago. Hard-boiled eggs always grossed me out, but Noah loves them, so I thought I'd try some recipes that had more than just hard-boiled egg to them. Enter egg salad! I love the creaminess of the mayo with crunchy bacon and tart olives. You can count me a hard-boiled egg lover now!
Looking for Low-FODMAP Recipes?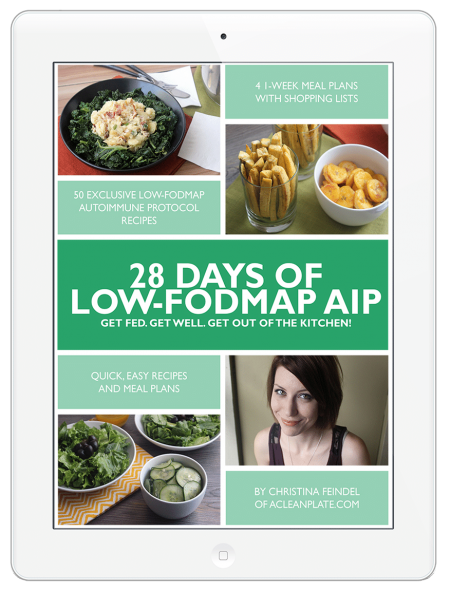 The low-FODMAP diet is often prescribed for people with IBS or Small Intestinal Bacterial Overgrowth (SIBO), and there's a huge overlap of that demographic with people with autoimmune disease. My e-book 28 Days of Low-FODMAP AIP combines both IBS- and autoimmune-friendly diets in a 28-day meal plan designed to jump start and simplify this often-challenging diet change. Just you wait: The meal plan includes 50 exclusive low-FODMAP recipes you won't find on my website or anywhere else, with dishes like Chicken Vindalo, Jambalaya, and crispy, crunchy Tostones. You'll be amazed at the variety of flavors still available to you! The ebook is available as a digital download for $9.99.
Nutrition Facts
Calories:
216
kcal
Carbohydrates:
3
g
Protein:
14
g
Fat:
16
g
Saturated Fat:
5
g
Polyunsaturated Fat:
3
g
Monounsaturated Fat:
6
g
Cholesterol:
333
mg
Sodium:
516
mg
Potassium:
173
mg
Fiber:
0.3
g
Sugar:
1
g
Vitamin A:
500
IU
Vitamin C:
0.8
mg
Calcium:
30
mg
Iron:
1.3
mg
Instructions
Cook the bacon until crispy, then crumble it into bits.

Combine all ingredients in a lidded bowl or dish and mix well.

Refrigerate until chilled, then serve.