Until moving into this apartment a few years ago, I'd always had a pantry packed full of stuff. Boxes and cans everywhere and more non-perishables than you could shake a stick at. And then I moved here and found myself with just one teeny tiny little cabinet to keep all my pantry items in. Good thing I went Paleo shortly thereafter–ditching all those boxes of cereal, bags of flour, canned soups, beans, and bags of rice sure cleared up a lot of space! If you're just getting started with Paleo, you probably already know what kinds of things in your pantry you should get rid of, but might be wondering what to replace them with. Here are my favorite Paleo ingredients to keep on hand! Do you need all of them? Absolutely not; it depends on what kind of (and how much) cooking and baking you plan to do! For more Paleo ingredients you can keep in your pantry, check out my post on autoimmune protocol pantry items.
Flours and Starches
Almond Meal: This is where Bob's Red Mill comes in. This coarser almond flour is great for breading meats or for denser baking, like pie crusts.
Basmati Rice: I don't really consider rice Paleo (like high-quality dairy, it's more of a "cut it out for a while and see if you feel worse when you reintroduce it" kind of food), but if you do eat it, basmati is the best one to go with. Its lowest in arsenic and of all the rice I've tried reintroducing, it's the only one that doesn't give me a headache. I've also found it an essential tool in my seemingly never-ending quest to gain weight.
Blanched Almond Flour: This is the most common Paleo flour, probably because it's the easiest to find. You'll want to use a brand that's finely-milled; some brands like Bob's Red Mill sell what is really more of a meal (a coarser grind). You can always process those into a finer flour in your food processor, but that's just an extra step!
Chestnut Flour: This one, too, is usually reserved for "fancier" recipes. I've never used it myself, but hear it's got wonderful flavor. If you plan to do a lot of baking, it's worth investing in.
Flax Meal: I don't personally use flax because I think there are healthier and cheaper options (flax is somewhat phytoestrogenic), but a tablespoon of flax meal soaked in three tablespoons of water is a good egg substitute if you are sensitive to eggs.
Hazelnut Flour: I've only used this a few times, but I love that there are options that have a different flavor from almond flour. You'll mostly only see this one used in the fancier baking blogs and cookbooks.
Potato Starch: I've only ever seen this in Russ Crandall's recipes, but we are big fans of his recipes, so I always keep a bag on hand. One will last me a good long while!
Pumpkin Seed Flour: You probably won't use this unless you have nut allergies, but if you do have nut allergies, it's a godsend! It can turn your baked goods a little green, which I think only makes it more fun.
Sunflower Seed Flour: This is a great option for nut-free baking, though seed flours tend to have a stronger flavor than nut flours.
Sweeteners
Evaporated Cane Juice (Sucanat): This is the nutritive alternative to refined white sugar. You can also make your own powdered sugar from it by whizzing it in a processor with a few tablespoons of arrowroot powder. I use this in most recipes that call for white or granulated sugar.
Muscovado Sugar: This is the nutritive alternative to light or dark brown sugar, but I haven't encountered it a whole lot myself (probably because I don't do a lot of baking). I'll admit that I often just use organic brown sugar when a recipe calls for it rather than trying to substitute it with muscovado. But if I kept some muscovado around, I wouldn't have to do that!
Maple Sugar: This sugar has a wonderful maple flavor, and you'll see it every now and then in Paleo recipes where a maple flavor is desired. The first time I used it, it was to make candied bacon (yum)!
Powdered Sugar: While a lot of off-the-shelf powdered sugars use cornstarch, the brand I use uses tapioca, so it's totally Paleo-friendly! Powdered sugar gets a bad rap because it seems so decadent, but it's just finer-ground cane sugar. If you use one, I don't see why you can't use the other!
Seasonings
Berry-Based Spices: Allspice, black pepper, cardamom, juniper, star anise, vanilla beans, and white pepper add flavor and, in the case of pepper, just a little bit of heat to a dish. Of these, my favorites to keep on hand are allspice and black pepper.
Nightshade-Based Spices: Cayenne, chili powder, paprika, and red pepper flakes can all add some heat to a dish and show up a lot in Cajun, Mexican, Asian, and Indian cuisines.
Seed-Based Spices: Anise, annatto, caraway, celery, coriander, cumin, dill, fennel, fenugreek, mustard, nutmeg, poppy, and sesame seeds may be used in a recipe ground or whole, raw or toasted, and can add a bit of visual interest as a garnish.
Spice Blends: Curry powder, Chinese five-spice, garam masala, herbes de Provence, Italian seasoning, poultry seasoning, and steak seasoning are easy ways to liven up a dish, but if you're buying pre-made spice blends, make sure they don't include any non-Paleo additives.
Fats and Oils
Ghee: A lot of people who don't tolerate dairy that well do alright with ghee, though I don't personally go out of my way to include it into my diet. Still, it's a great option if you want just a little bit of that butter flavor.
Macadamia Nut Oil: I've never personally used any nut or seed oils, but I've heard a lot of good things about macadamia oil, especially for use in salads.
Sesame Oil: Sesame oil imparts a unique flavor to Asian dishes you just can't get without it.
Walnut Oil: This stuff has a really rich flavor and the really high-quality brands don't come cheap. I'm intrigued!
Condiments
Barbecue Sauce: A lot of these may need to be kept in the fridge once they're open, but I'm going to go ahead and include them in this pantry round-up anyway. I haven't found a 100% clean pre-packaged barbecue sauce and it's not that hard to make your own, but this one from Annie's very nearly hits the mark.
Ketchup: More and more brands are coming out with organic ketchup sweetened with unrefined sugar instead of corn syrup. Yay! We go through a lot, so I tend to buy in bulk online or at Costco and keep a few bottles in the pantry for backup.
Mayonnaise: It's not really that hard to make your own mayo, but I'm with you if you just don't feel like doing it. Thankfully, Primal Blueprint has a Paleo-friendly mayo on the market!
Mustard: We don't eat a lot of burgers, so my favorite way to use mustard these days is in salad dressings or on poultry. This is another condiment you can make yourself, but there are plenty of more-or-less Paleo options available.
Red Curry Paste: Like Thai curries? Then you gotta have some of this on hand!
Rice Wine Vinegar: This is another must-have for Asian cooking, though you can get away with using white wine vinegar instead if you aren't too particular.
Salad Dressings: Tessemae's has Paleo-friendly dressings, though I prefer to make my own with a mix of oil, vinegar, and seasonings (and maybe a bit of honey and/or mustard).
Sriracha: This is a quick way to spice up just about any dish. My husband loves to toss it on stir-fries or soups I've made that don't quite satisfy his Cajun palate.
Tomato Paste, Puree, or Sauce: For a quick way to add some depth to a soup or sauce, you can't go wrong with tomato paste, puree, or sauce. I usually have a few cans stashed away for stews or pasta.
Wasabi: You can't have sushi or anything like it without a bit of wasabi. Use this powder to make your own paste or mayo!
Nuts and Seeds
Cocoa Powder: I actually don't find myself using cocoa that often, but if you want chocolate cakes, cookies, muffins, or anything else, even if its only a few times a year, it's nice to have a can of fair-trade, high-quality cocoa tucked away. I use it interchangeably with cacao.
Coffee: Paleo folks love their fair-trade coffee. I buy Equal Exchange beans and grind them myself for some of the most amazing coffee I've ever had. Throw in some ghee and/or coconut oil and whip it up in the blender for a rich, foamy "latte".
Nut and Seed Butters: Nut and seed butters like almond butter, cashew butter, and sunflower seed butter are a great condiment for apples or celery and show up in a lot of Paleo treats as well. Cashew butter is my personal favorite, while sunflower seed butter tastes the most like peanut butter.
Raw or Toasted Nuts and Seeds: Roasted pumpkin seeds make a great popcorn substitute for a movie night and almonds, walnuts, pecans, cashews, pistachios, and sunflower seeds are common ingredients in Paleo snacks and treats. Just don't overdo it with the nuts, or you'll throw off your omega-6 to omega-3 balance (and probably get a stomachache, too)–plus, they can be expensive!
Other
Alcohol: This is another one of those "really should cut it out" foods that isn't technically Paleo, but there are plenty of Paleo-ish options plenty of Paleo folks indulge in for an occasion that just calls for some celebration. Tequila is a popular one, as is wine, but rum, hard cider, gluten-free beers, and potato vodka are all grain-free choices, too.
Don't Feel Like Cooking?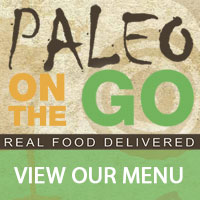 That's okay! Everyone needs a break sometimes, especially during busy times like the holidays or when you're sick or stressed out. When I find myself unwilling or unable to prepare healthy meals myself, I turn to Paleo on the Go. Yes, they have autoimmune protocol-friendly options! With tons of nutritious, delicious, pre-packaged meals, Paleo on the Go's ready-to-go, frozen courses are perfect for those days you just don't want to be in the kitchen. They even offer an appreciable selection of AIP-friendly treats, including toaster pastries!