1. It's expensive.
You know what I was living off of as a vegan college student? A few cans of beans and corn, a bag of rice, flour tortillas, and a few bananas and bell peppers every week. I had bean fajitas every single night and a banana if I got hungry before then. I was spending about $10 a week. So, yeah, compared to that, Paleo is more expensive. Any diet is more expensive than not eating enough, nutritionally. But then I graduated and started working full-time and my appetite and my budget increased. Not having a lot of free time, I started living off of packaged foods — potato chips, coconut-based yogurt, MorningStar burgers, Oreos, and Amy's frozen meals — and quick bean-and-rice dishes. I was spending about $50 a week and about 90% of my 1,200-1,500 calories a day were coming from the sugars in my yogurt, breads, beans, and cookies. Not only did I feel miserable, with crazy swings in energy and mood, I also wasn't getting much nutritional bang for my buck.
Now that I'm Paleo, I buy exclusively grass-fed meats (like offal and ground beef for about $5 a pound), wild-caught seafood (around here, canned salmon is the cheapest at $3 a pound), and vegetables that are in season or on sale. That's it. I only occasionally buy fruit, coconut milk, pantry items like good-quality oils and herbs, and even less frequently buy nuts, packaged foods like jerky, or processed foods like coconut flour for special occasions (because those foods are all more expensive and also less healthy than plain ol' veggies). Not only has grocery shopping gotten a lot simpler — sticking to the perimeter of the store with the occasional trip down the baking aisle for seasonings or oils — but I'm spending less and getting a lot more bang for my buck. No more $5 packages of cookies that I'm going to eat in two days. No more $3 bags of potato chips that are more air than potatoes. We spend about $100 per week for two people, and that includes our toiletries as well as our cage-free pastured eggs and high-quality butter. And yeah, we shop around to get the best deals, sometimes hitting more than one store or ordering certain products (like my organ meats) online. Since quality is an important but not essential part of Paleo eating, we could easily spend less for conventionally-raised products. It is an absolute myth that junk food is cheaper than real food. Compare the price and nutritional value of a bag of chips or box of crackers with the amount of kale you could get for the same price–and then compare the nutritional value of those foods. Wow, is kale the better deal!
2. It's hard.
Cooking isn't rocket science. It may not be something you like doing compared to watching TV or reading a book or hitting a bar or whatever it is you like to do after work to de-stress, but it doesn't take a lot of effort to throw some meat and veggies on the stove and stir them every few minutes until they're cooked. Do it while the news is on. Get an audiobook and cook while you're listening to that. Have a friend over to turn it into a social event. Crank up some music and belt your heart out. Heck, do yoga on the kitchen floor while you're waiting for your stew to simmer. Or, all of the above. (I can frequently be spotted in Warrior I while my bacon crackles a foot away and Florence + the Machine blasts from the living room.) Cooking is only as hard as you make it. Host dinner parties or potlucks instead of going out and you'll not only eat better, but save a lot of money. Even if you're not Paleo, you probably know that preparing your own food is the healthiest way to eat. So find a way to do it!
3. It's a fad.
Oxford defines "fad" as "an intense and widely shared enthusiasm for something, especially one that is short-lived and without basis in the object's qualities; a craze." Okay, so the first part of that sentence might fit. My passion for Paleo IS intense and shared by all of my Paleo peers. But the Paleo diet in its modern form has been around for over forty years, and is based on a diet and lifestyle much, much older than that–going way back before the time of doughnuts, Frappuccinos, and even bread. It's also one of the most adaptable communities I've ever encountered. You couldn't tell me as a vegan about a new study that shows the proteins in meat are more easily digested than any plant protein out there and essential for human health; I wouldn't believe you, wouldn't want to believe you, and would probably counter with something entirely unrelated like "Well, I think meat is gross." A totally fine opinion, but you can't use opinions to argue against fact. But Paleo is constantly seeking out the latest in the scientific literature and adapting its recommendations accordingly. Back in the day, dairy, white rice, and green beans weren't considered Paleo, and a whole lot of people got up in arms when Paleo folks started adding them into their diets. "So, what, you're changing the rules on me? That's full of shit. Cavemen didn't have dairy or white rice." "Well," Paleo responds, "a lot of studies are now showing that these foods are quite healthy for many individuals, and we do have them, so we think they're okay." That's my kind of community. I'd rather be part of an ever-changing, cutting-edge movement than one stuck in outdated rules any day.
4. It's low-carb.
A diet that is not high-carb is not automatically low-carb. This is one of the most aggravating persistent myths about Paleo. There is such a thing as a middle ground. I eat about 300 grams of carbs a day, which is considered a healthy and maybe even a higher-than-average amount. Many people do accidentally eat too few carbs on Paleo simply because they don't know where to get them or how often to include them in their meals, a mistake easily corrected by increasing squash, root vegetable, plantain, and fruit intake.
5. It's too high in fat and fat causes heart disease.
Fat is good, as long as it isn't trans fat and as long as you're balancing your intake of omega-3 and omega-6 fatty acids. It helps regulate your blood sugar, can improve your digestion, and makes many nutrients more easily absorbed. A low-fat, high-carb diet has been increasingly associated with modern diseases of affluence, especially diabetes, and there is now significant evidence to suggest that it's excessive sugar, not fat, that causes heart disease and obesity. Eat The Yolks is a fantastic expose on the subject and contains plenty of citations for you to look over.
6. It's too high in protein and a diet full of meat causes cancer.
Every study suggesting that meat causes cancer failed to account for vegetable intake, and when vegetable intake was accounted for, the correlation between meat consumption and cancer risk disappeared. In other words, as long as you're eating plenty of vegetables and not a diet entirely of meat, you'll be fine. And contrary to popular belief, Paleo is not all about bacon, turkey legs, and pork roasting over a fire pit. Paleo is one of the biggest advocates for huge vegetable intake. My plate is usually about 3/4 vegetables (including starchy carbs) and 1/4 meat (including fat). That's a heck of a lot more vegetables than I ate as a vegetarian, when my plate was primarily beans and rice.
7. You miss out on a lot of essential nutrients, like calcium and fiber, by not consuming dairy and grains.
I'd argue that you miss out on a lot of essential nutrients, including calcium and fiber and all of their wonderful cofactors, by not consuming enough offal, seafood, and vegetables–how many of you eat (or ate) 9-14 cups of vegetables per day on the standard American diet? Veggies and fruit have all the fiber you need and none of the immune-stimulating, gut-irritating compounds you don't. And vegetables and meat don't have to be fortified because they already contain everything the body needs, unlike processed grain and dairy products. Want calcium? Start using bone instead of vegetable broth, eating the tiny bones in your fish, and/or adding more dark leafy greens like kale into your diet.
8. It's not environmentally friendly.
John Durant has an excellent argument about this in The Paleo Manifesto. Basically, it's a lot more environmentally friendly to raise animals ethically and sustainably (pastured or grass-fed), to use every part of the animal including the skin, bones, and organs, and to support the people that do that than to use acres upon acres of land (and water) to grow crops like corn and wheat to feed the animals which in turn feed us. And for those people that think abstaining from meat will be the end of the unethical, inhumane factory farms that use that wheat and corn for their feed, think again. Do you have enough people on your side to boycott the entire industry, resulting in every factory farm closing its doors and turning to producing… tofu and vegan leather? Not in a million years. As we all know (if we've paid any attention to our public schools), abstinence-only approaches don't work. But if we all vote for ethically-raised meats, letting the market know what we want and are willing to pay for, we encourage sustainable practices. As a former vegan, I take great pride in knowing the animals that sustain me were treated well and that no part of them was wasted.
9. It doesn't work and there's no reason to believe that it does.
Have you actually tried Paleo? Have you read any of the thousands of scientific articles cited in books like Practical Paleo and The Paleo Approach? What about the testimonials from thousands of patients who needed to lose weight, correct blood sugar or hormone imbalances, or were debilitated by autoimmune disease? One of the most vocal anti-Paleo friends I have tried Paleo for about a month and immediately started smack-talking it when she didn't notice results. Later, she admitted that she hadn't given up beer during that month and had completely ignored the lifestyle recommendations like sleeping, exercising, getting enough sunlight, and practicing stress management. There you have it, genius. While there are certainly people for whom Paleo requires some troubleshooting–I was one of them–that doesn't mean the whole thing is crap. Give it an honest shot and if it doesn't make you feel better, start troubleshooting your diet, lifestyle, and medical treatment to find out what's really going on.
10. Cavemen didn't have "Paleo-approved" foods like almond flour, so the whole diet is hypocritical, our ancestors never lived this way. And besides, modern humans have evolved to tolerate neolithic foods better!
First of all, Paleo isn't a historical re-enactment. We don't dress like cavemen and mate by bashing each other over the head. We don't usually roast our game over open pits dug out of the backyard or even hunt our meat ourselves. It's adapted for modern living, just like zoo animals' diets and habitats are fabricated based on what they'd have in the wild but given to them in a modern context. Lions are given slabs of meat, not live gazelles. They interact with humans more. They have medical care. Modern humans are zoo animals, living in an environment that varies dramatically from the environment we'd have in the wild. And that's totally fine. But we've got to acknowledge that we're not above biology. We can't trick our bodies into surviving off Oreos alone. We can't trick our bodies into shedding pounds and having happy hormone regulation if we sit on our butts every hour of the day. We need nutrients, exercise, sleep, sunlight, play and laughter, and community–just like every other animal on the planet. Paleo doesn't care how you get that stuff — whether you take off into the wild to live like a caveman, just start eating better and biking to work, or even occasionally indulge in something a little not-Paleo when you're out with friends as part of your play, laughter, and community — as long as you do get that stuff.
Make your own non-toxic cosmetics!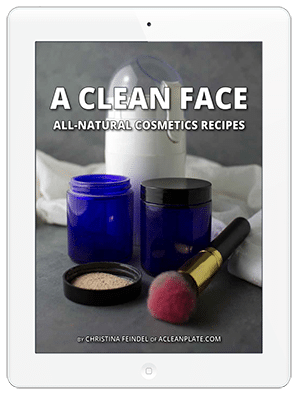 I may make my living as a food blogger, but journey toward a more health-conscious lifestyle actually began with making my own cosmetics while I was still in high school–many years before I started "clean eating". Desperate to get a handle on my sensitive skin and nose, I was also hoping for cheaper, more eco-friendly alternatives to store-bought products. If you're in the same boat, making your own cosmetics and toiletries is easier than you might think! My e-book A Clean Face will give you the tools you need to get started for just $9.99.