If you've done some reading on autoimmune disease, you've probably encountered the term "adrenal fatigue". But the odds are good you're familiar with it even if you didn't know what it was called: Chronically elevated levels of stress hormones are pretty common nowadays. We're a busy species, often not sleeping, eating, or exercising in our hurry to get to everything we've got to do in a day.
Adrenal fatigue refers to overworked and exhausted adrenal glands that produce too much cortisol for certain times of day and too little for others. It's usually raised in relation to Hashimoto's. Unfortunately, wonky cortisol can interfere with your thyroid treatment, making you feel hyperthyroid or hypothyroid even when you're not. But its symptoms can affect anyone.
Symptoms of adrenal fatigue include:
Insomnia and feeling "wired"
Fatigue and exhaustion
Abnormal heart rate, blood pressure, and/or body temperature
Poor digestion
Poor stress management
Frequent illness
Anxiety, restlessness, and mood swings
Sensitivity to light, noises, and temperature changes
A dip in blood pressure upon standing
Cravings for salty foods or sweets
While medication is available and often necessary for extreme cases of adrenal fatigue (like Addison's disease), diet and lifestyle changes can help. Which is good news! A lot of the things that will benefit adrenal fatigue are just healthy things we should all be doing anyway. You can read more about them in this blog post:
How to treat adrenal fatigue with diet and lifestyle:
Get some gentle exercise every day, but not within the last five hours before you go to sleep or during times your cortisol is high. Take a walk in the morning or early afternoon or do some light yoga or mild resistance exercise. Don't get your heart rate up or exhaust yourself, but do get moving.
Go to sleep and wake up at the same time every day and try to get at least eight hours of sleep every night. Try not to toss and turn, even if you're restless.
Unless you have to for medical reasons, don't eat large meals before bed and avoid stimulating foods like spices, caffeine, and citrus in the evenings.
Use your bed only for sleep: If you often read or watch TV in bed, your brain will switch into "entertainment" mode instead of "sleep" mode whenever you crawl under the covers.
Do something relaxing in the hour or two before bed, like reading, listening to music, gentle yoga, or talking with loved ones. Don't do anything that's going to get your heart rate up, like watch Game of Thrones or The Walking Dead.
Your circadian rhythm is regulated by your exposure to light. Get plenty of non-burning sunlight exposure during the day and avoid bright lights after dark, even from computer and cell phone screens.
Try an elimination diet. I've got plenty of autoimmune protocol recipes and resources to get you started, so I won't go into a lot of depth on that here. But especially avoid added sugars, alcohol, and caffeine. Heart palpitations and other adrenal symptoms after eating are a good sign that something you ate sent your stress hormones into overdrive and should be avoided in the future.
My personal experience with adrenal fatigue is still an ongoing saga due to my lifetime struggles with insomnia. If I don't go to bed before 10pm, I wind up "wired" the rest of the night. As I've learned to how to manage my diet, stress levels, and sleep hygiene, my symptoms have gradually improved. I do sleep like a baby as long as I go to bed and get up at the same time every day, no excuses. My heart palpitations stopped when I quit chocolate and coffee and my anxiety improved, too. I stopped pushing myself to do exercise that made me miserable and took up walking instead. It's been a long, slow process to learn what works best for me, but hopefully, some of those tips can help you get your cortisol levels under control, too!
Looking for Low-Histamine Recipes?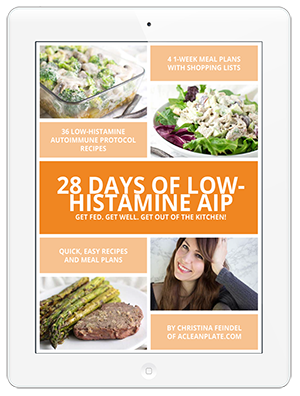 A low-histamine diet can be immensely helpful for MAST cell disorders or people with excess histamine production, but it's an extremely tricky diet to manage. My e-book 28 Days of Low-Histamine AIP combines low-histamine foods with the anti-inflammatory autoimmune protocol diet in a 28-day meal plan designed to jump start and simplify your diet change. The meal plan includes 36 simple, satisfying low-histamine recipes including a variety of dishes like Chicken Schawarma, Cabbage Roll Stir-Fry, and Chimichurri Steaks. You'll be amazed at all the flavors still available to you! The ebook is available as a digital download for $9.99.