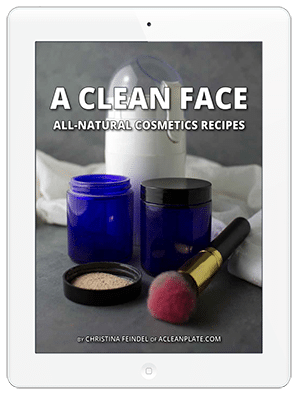 I may make my living as a food blogger, but my health-conscious journey actually began with making my own cosmetics while I was still in high school–many years before I started "clean eating". Whether you've got sensitive skin like I do or are just looking for cheaper, more eco-friendly alternatives to store-bought cosmetics, making your own is easier than you might think. My e-book A Clean Face will give you the tools you need to get started!

A Clean Face Features
Information on the ingredients and supplies you'll need
How to make everything from Foundation and Lip Balm to Deodorant and Shaving Cream
An inside look at my skincare routine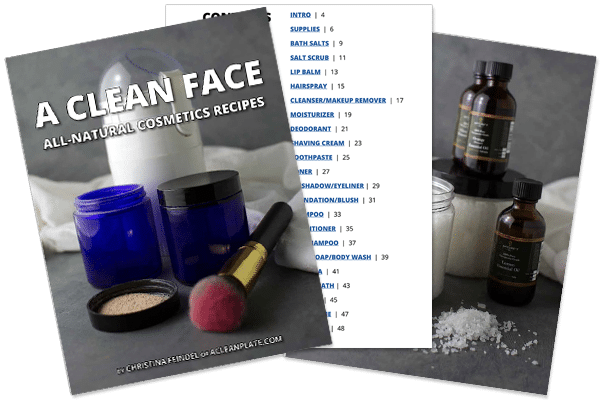 F.A.Q.s
Where do I download the e-book? Upon payment, the download link will be sent to your PayPal e-mail address. Please make sure you update your PayPal e-mail address during checkout if it is not the same as the e-mail address you would like the e-book sent to. If you are having trouble downloading the book on a mobile device, try using a computer instead.
How can I view this e-book? In any PDF reader (such as Adobe Reader for computers or PDF Reader for Apple devices) on any web-friendly device (such as computers, tablets, and smart phones).
Does this e-book work in Kindle or Nook? Yes! Send the PDF to your Kindle e-mail address or sync it to your Nook via USB.
Do I need internet access to use this e-book? You will need internet access to download the e-book and to open any links to the web inside of it, but you can read the e-book whether you're online or off.
What is your refund policy? The e-book cannot be returned after the download link has been used. If you have not used the download link, a 100% refund will be given.