Cauliflower rice is a Paleo and AIP staple you'll see in a lot of recipes. As easy as it is to make, there is a trick to it–you don't want your cauliflower to be too wet when you toss it in the pan and you don't want to overcook it, either, or you'll wind up with a bit of a mush!
Looking for more easy AIP recipes?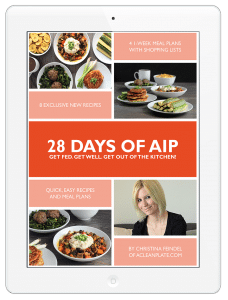 I know diet change can feel overwhelming. I started the autoimmune protocol at a time when only four other people were writing about it, and over the years, I've striven to give you the resources I wish I'd had when I got started. Not just recipes, but ways to implement them. My first ebook 28 Days of AIP is a meal plan that will help you get going (or get back on the wagon) with as little fuss as possible. With a variety of simple, delicious recipes, plenty of leftovers so you don't spend all your free time in the kitchen, and shopping lists ready to go, all you have to do is follow the plan, then sit down and enjoy your meal! It's available as a digital download for $9.99.
Nutrition Facts
Calories:
105
kcal
Carbohydrates:
8
g
Protein:
3
g
Fat:
8
g
Saturated Fat:
7
g
Polyunsaturated Fat:
0.4
g
Monounsaturated Fat:
1
g
Sodium:
211
mg
Potassium:
437
mg
Fiber:
4
g
Sugar:
3
g
Vitamin A:
1
%
Vitamin C:
111
%
Calcium:
3
%
Iron:
4
%
Instructions
Heat the oil in a large skillet over medium heat.

Cook the cauliflower for about 10 seconds before adding the broth and salt.

Cover and cook for 5 minutes.

Uncover and cook another 5 minutes, stirring frequently.