Now, I'm sure there are going to be a lot of people that take issue with this statement, but… you don't need sushi rice to enjoy the flavors of sushi! These Rice-Free Nori Rolls contain some of my favorite sushi veggies alongside a hearty helping of smoked salmon, which brings some of the same flavors to the roll you might ordinarily get from cream cheese. (I'll admit, I miss cream cheese more than rice!) Making these Rice-Free Nori Rolls is just like making a roll of sushi, but without the hassle of making rice first. You can have this recipe ready in about 10 minutes and you can absolutely include whatever kind of ingredients you like. Sliced mangoes, red onion, and strawberries go well with tuna, for example. So there are a lot of possibilities even if you're trying to stick to the autoimmune protocol. Have at 'em!
Are you suffering from adrenal fatigue?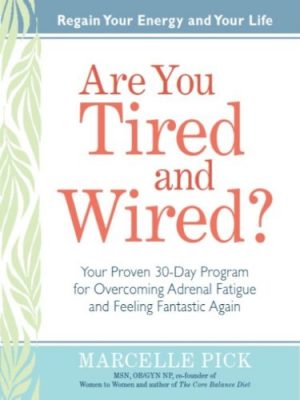 Are You Tired and Wired? is one of my favorite books on adrenal fatigue with chronic illness. It's a comprehensive yet straightforward examination of the factors at work and home that contribute to chronic adrenal dysfunction and the diet, lifestyle adjustments, and emotional reprogramming that can help fix it. A healthcare provider with a focus on women's health, Marcelle Pick will help you identify what type of adrenal dysfunction you suffer from and provide an easy-to-follow, science-based program to help you restore balance to your life. I found it extremely helpful with my own chronic fatigue!
Ingredients
8

sheets

nori

8

ounces

smoked salmon

(sliced)

1

small

cucumber

(julienned)

1

small

carrot

(julienned)

1

large

avocado

(sliced)

8

stalks

green onion

2

tablespoons

coconut aminos
Equipment
Nutrition Facts
Calories:
92
kcal
Carbohydrates:
6
g
Protein:
6
g
Fat:
5
g
Saturated Fat:
1
g
Polyunsaturated Fat:
1
g
Monounsaturated Fat:
3
g
Cholesterol:
7
mg
Sodium:
323
mg
Potassium:
258
mg
Fiber:
3
g
Sugar:
1
g
Vitamin A:
50
%
Vitamin C:
12
%
Calcium:
2
%
Iron:
3
%
Instructions
Lay the nori sheet with the shiny side down on a clean towel or sushi mat.

Lay 1/8 of the salmon, cucumber, carrot, and green onion in a line 1" from the bottom of the nori sheet.

Using the towel or mat, roll the nori from the bottom up into a tight cylinder around the fillings. You can wet the top 1" of the nori sheet a little to help it stay closed, but leave it lying seam-side down.

Slice into bite-sized pieces with a very sharp, wet knife, then serve with coconut aminos for dipping.