Nothing says fall like Spiced Apple Cider! Embracing apples' natural sweetness, it has only 3 ingredients and 5 minutes of prep. This is one of my favorite ways to use the Instant Pot's slow-cooker setting, because it will fill the house with such wonderful scents. Personally, I like to keep my cider simple, but if you want to try something different? Use grape or cranberry juice instead of the apple juice, or split one of them 50/50 with it. You can also vary up the seasoning with some lemon zest, orange slices, or ginger instead of or in addition to the cinnamon and cloves! And for an especially decadent treat, stir in 1/2-3/4 cup caramel sauce for caramel apple cider. (It'll still be AIP-friendly if you use Sweet Apricity's, or make your own.)
Looking for Some Simple AIP Recipes?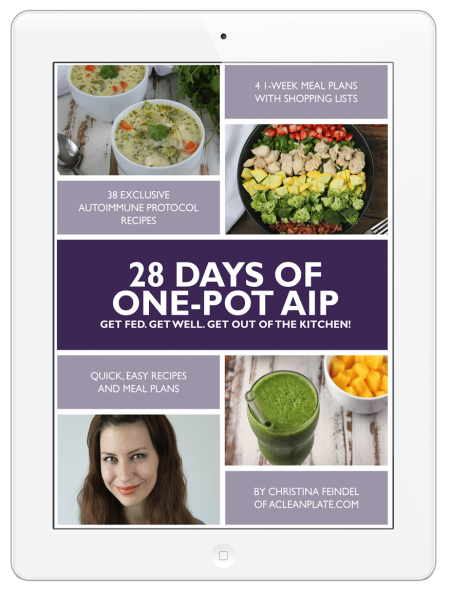 When you're dealing with fatigue, pain, or illness, eating healthy is hard enough without having to multitask while cooking or clean up a huge mess afterwards. That's why one-pot meals are my favorite. 28 Days of One-Pot AIP is exactly what it sounds like: A 28-day meal plan featuring only 100% autoimmune protocol, one-pot recipes. There's an intro to explain the AIP and one-pot cooking and the preparation is so much simpler when you've only got one thing to keep track of. Plus, you'll be amazed at the variety of flavors still available to you, like my Chicken Pot Pie Soup, satisfying green smoothies, and colorful salads! The e-book is now available for $9.99.
Spiced Apple Cider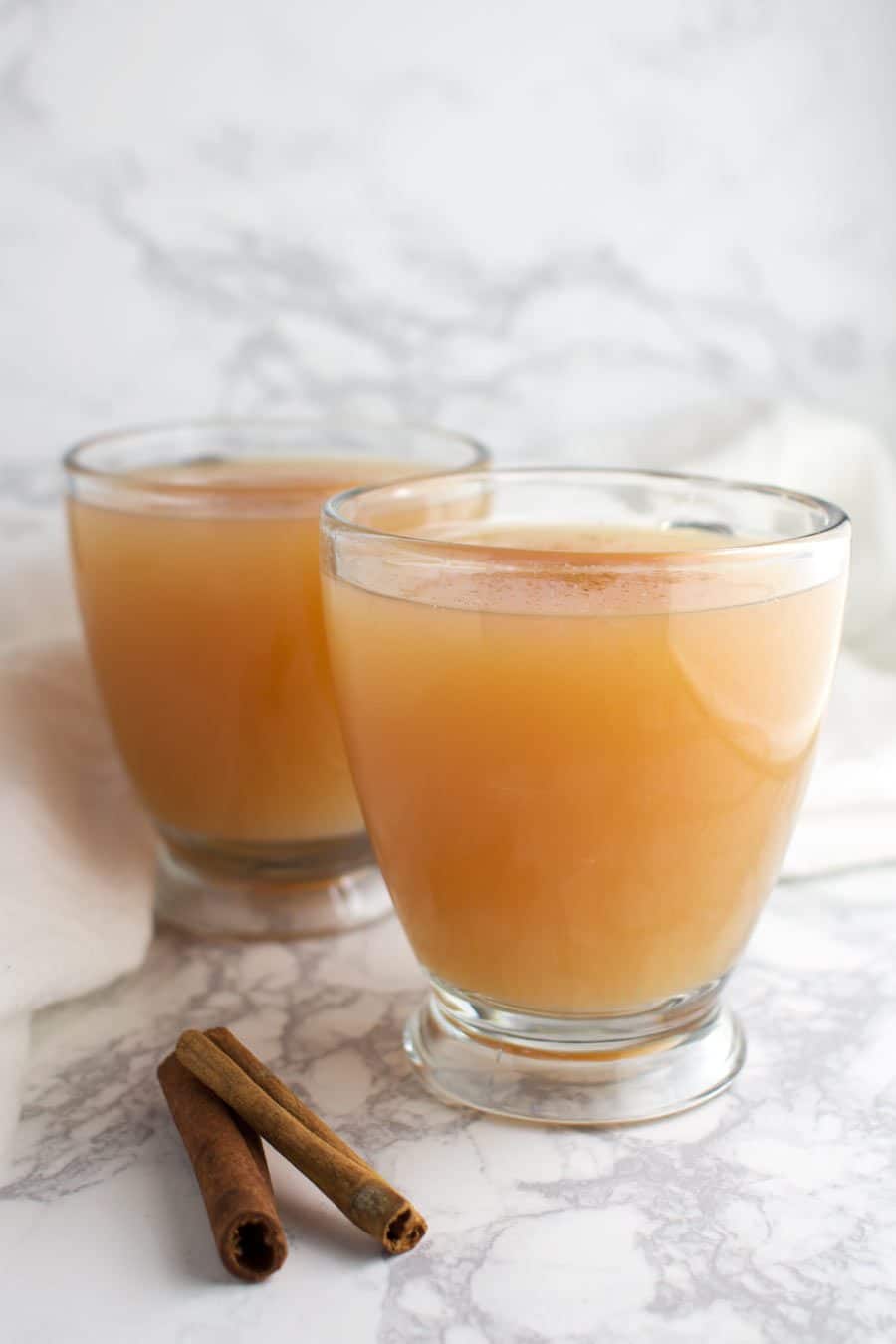 PREP TIME:

5

minutes

COOK TIME:

4

hours

YIELDS:

8

cups

RATING:
CALORIES:
112kcal
PROTEIN:
0.1g
TOTAL FAT:
0.3g
MUFA:
0.01g
PUFA:
0.1g
SATURATED:
0.05g
CHOLESTEROL:
TOTAL CARBS:
28g
FIBER:
0.2g
SUGARS:
26g
VITAMIN C:
44%
POTASSIUM:
282mg
SODIUM:
7mg
CALCIUM:
2%
IRON:
5%
Ingredients

CALORIES:

112kcal

PROTEIN:

0.1g

TOTAL FAT:

0.3g

MUFA:

0.01g

PUFA:

0.1g

SATURATED:

0.05g

CHOLESTEROL:

TOTAL CARBS:

28g

FIBER:

0.2g

SUGARS:

26g

VITAMIN C:

44%

POTASSIUM:

282mg

SODIUM:

7mg

CALCIUM:

2%

IRON:

5%