This Blueberry Lemonade recipe is easy, peasy… well, you know the rest! Who doesn't love lemonade? It's the first thing you want to reach for on a hot summer's day. It was never a staple in my household as a kid–we'd occasionally have cans of lemonade in the fridge, but more often, we had cans of soda–but as an adult, I love its simplicity. Its quaintness. It's usually not until the end of summer I start craving lemons (I have no idea why), but when I do, there's nothing I love more than a good glass of lemonade. It's super easy to make and so very satisfying. Even more so if you happen to have lemons in your backyard, like my parents do. Big giant ones that I often come home with after a visit, just begging to be juiced. Just about any fruit pairs well with lemonade, but blueberry and mint make for a refreshing combination. If you like, you can muddle the blueberries with the mint to get a bit to get more of their juices and flavor (as well as their beautiful color) into the lemonade, or you can leave them undisturbed. I actually quite like eating the ice-cold, lemonade-soaked blueberries left at the bottom of my glass afterwards. The recipe makes about eight twelve-ounce servings, but it will vary depending on how much you muddle the blueberries; mashing them up real good will yield about a cup less.
Like Blueberry Lemonade? Try These!
Blueberry Lemonade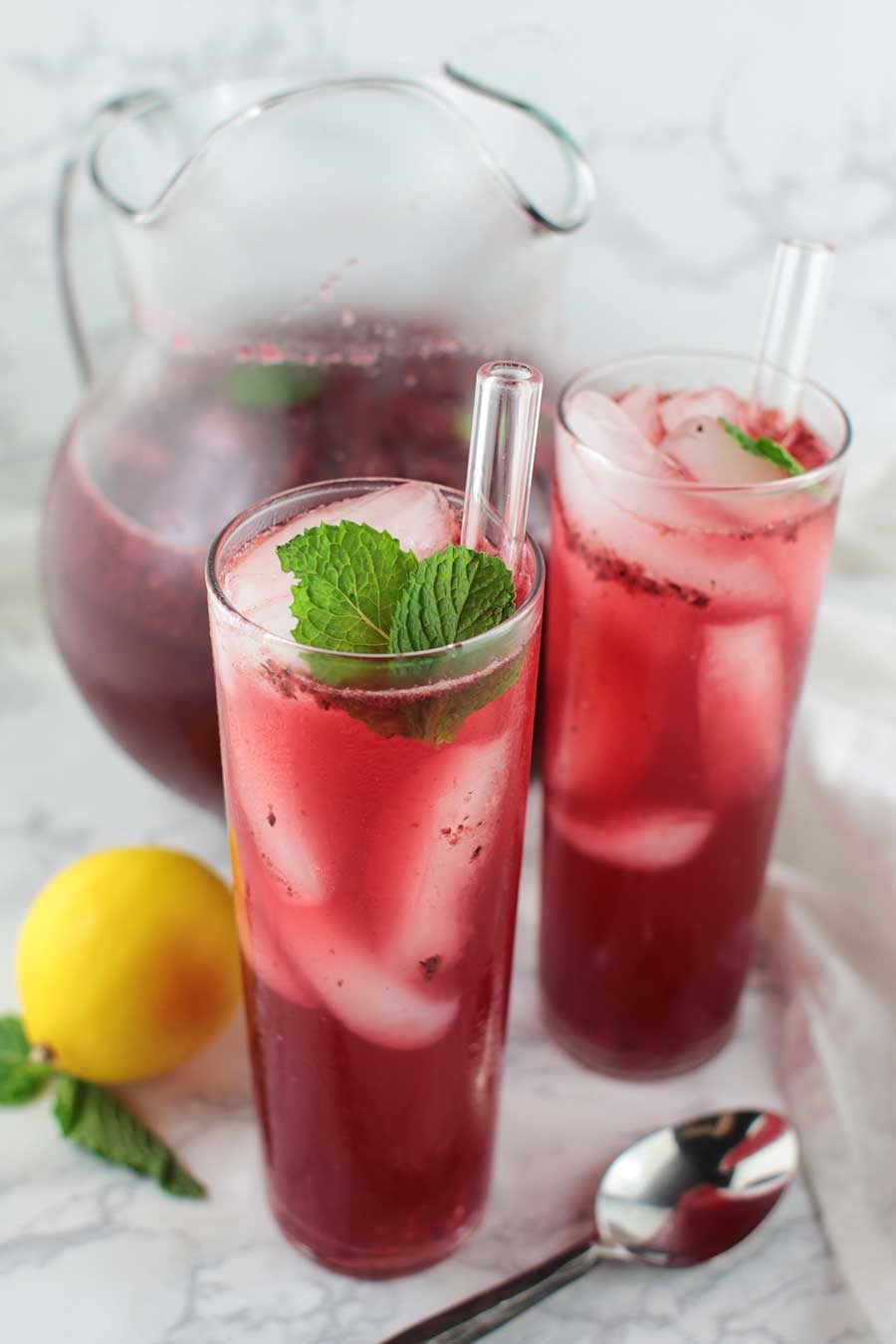 PREP TIME:

2

hours

COOK TIME:

0

minutes

YIELDS:

8

people

RATING:
Ingredients
8

cups

water

,

cold

1

cup

lemon juice

,

fresh

2 1/2

tablespoons

mint

,

chopped

1

cup

blueberries

,

fresh or frozen
This information is an estimate provided by an online nutrition calculator. It is not a substitute for professional advice.
CALORIES:
27kcal
PROTEIN:
1g
TOTAL FAT:
0.1g
MUFA:
0.02g
PUFA:
0.1g
SATURATED:
0.02g
CHOLESTEROL:
TOTAL CARBS:
8g
FIBER:
1g
SUGARS:
4g
VITAMIN C:
30%
POTASSIUM:
86mg
SODIUM:
2mg
CALCIUM:
2%
IRON:
2%
Ingredients

8

cups

water

,

cold

1

cup

lemon juice

,

fresh

2 1/2

tablespoons

mint

,

chopped

1

cup

blueberries

,

fresh or frozen

This information is an estimate provided by an online nutrition calculator. It is not a substitute for professional advice.

CALORIES:

27kcal

PROTEIN:

1g

TOTAL FAT:

0.1g

MUFA:

0.02g

PUFA:

0.1g

SATURATED:

0.02g

CHOLESTEROL:

TOTAL CARBS:

8g

FIBER:

1g

SUGARS:

4g

VITAMIN C:

30%

POTASSIUM:

86mg

SODIUM:

2mg

CALCIUM:

2%

IRON:

2%