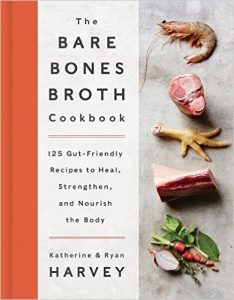 With The Bare Bones Broth Cookbook from Bare Bones founders Katherine and Ryan Harvey, you'll learn how to make amazing broth yourself and get over 100 recipes in which to use it in a beautiful, durable hard-cover cookbook. In addition to the recipes, you'll learn about the history and benefits of bone broth, like how it can benefit your gut, hair and nails, immune system, and skin, as well as all the getting-started tips you could want: The kind of equipment you'll need, the basic broth technique (including the hows and whys of each step of the process), and answers to the frequently asked questions like "what's the difference between broth and stock?", "where do I get bones?", "why should I use vinegar?", "what do I do with the fat?", and–here's the big one–"why doesn't my broth gel?" If you've ever been curious about making your own bone broth, this book is the perfect place to turn for advice!
The Bare Bones Broth Cookbook includes 10 broth/stock recipes including beef, chicken, fish, shrimp, and vegetable broths, as well as a whole chapter of recipes for flavored "sipping broths", both hot and cold, to enjoy without much more additional fuss. You can use your broths in breakfast recipes, like Butternut Squash Biscuits and Sausage Gravy, Scotch Eggs, or a Bison Omelet; in soups and stews like Beef Brisket Pho, French Onion Soup, or Shrimp Bisque; or maybe in a Grass-Fed Burger with Caramelized Onion, Garlic, and Sun-Dried Tomato alongside some Yucca Fries, Chicken Pot Pie, Beef Ragu with Spaghetti Squash, Chicken Mole, Spicy Salsa Verde, or Tangy Ketchup. Not all of the recipes in the book have photos, which is always a disappointment in an otherwise awesome book, but is probably also the only reason this book could contain so many recipes and be printed in hard cover. I'll take it! Not all of the recipes in the book are Paleo-friendly, either, (some include quinoa, pinto beans, bourbon, polenta…), but the vast majority are, and many of those that aren't can be adapted by simply omitting the grains or beans. And because this whole book is an ode to Paleo's favorite drink/ingredient, it's easily one that ought to be a staple in any Paleo household.
I've made a lot of bone broth in my day, and while I've gotten pretty good at achieving a good gel, I've never made one that quite captured the flavor of some of the better store-bought broths. So I was very much looking forward to peeking into Bare Bones' secrets with their Pork Broth recipe. Was it worth the work and the wait? You better believe it! Some recipes improve in flavor the more love you give them in the kitchen, and broth is one of them. And, heck, compared to some of the Paleo desserts I've made, taking a few minutes to skim the broth every hour or two wasn't really that labor-intensive!
I opted to make the Tomatillo-Cilantro Pulled Pork not only because I wanted to make the next recipe (which uses it), but because I loved my mom's tomatillo dishes as a kid and somehow hadn't had any tomatillos since moving out on my own. This recipe was the perfect excuse to remedy that situation. With roasted garlic, pepper, onion, carrots, tomatillos, and a few simple seasonings, a budget-friendly pork butt is slow-cooked in broth and shredded. The cooking liquids and mushy vegetables are blended into a smooth, creamy sauce for the pork, and the whole thing is garnished with earthy cilantro. Like any good slow-cooked dish, it's simple to prepare, leaves your house smelling amazing while it cooks, and if you start it in the morning, will be ready when you get home from work for dinner. The mild flavor of tomatillo is perfectly complemented by just a hint of heat from the pepper and garlic and the savory, juicy pork. While this dish was perfect as-is, it'd also be great inside some Paleo tortillas. And if you buy a bone-in pork butt, you can use that bone to make more broth for your next dish!
With my leftovers, I made the Hungarian Mushroom Stew with Crispy Pork, which features creamy butternut squash and mushrooms in chicken broth. The Tomatillo-Cilantro Pulled Pork is pan-fried until crispy and spooned on top for a meal that only takes about twenty minutes to prep (if you've already got the broth and pork). With a cook time just under an hour, your household will be more than ready to enjoy a bowl, tempted by the rich, exotic aromas of this stew in progress. Avid soup eaters almost any time of year, my husband and I were over the moon with this simple concoction. With the perfect balance of salt, garlic, heat from the pork, and the surprising addition of dill, this was a soup to rival ones we've had at some of Austin's best ethnic restaurants. Even if you don't have the Tomatillo-Cilantro Pulled Pork ready to go, this soup is well worth the effort of making some–though I suppose you could easily sub any pre-cooked pork in a pinch.
Not only do Katherine and Ryan make homemade broth simple, budget-friendly, and delicious, but with the collection of delectable recipes in The Bare Bones Broth Cookbook, you'll learn how to make this important Paleo staple and spice up your diet at the same time. With a classic, professional look, stunning, rustic photographs, a durable cover, and creative recipes that'll inspire you to spend more time in the kitchen and better enjoy your meals, The Bare Bones Broth Cookbook is everything you could possibly want in a cookbook. And with bone broth's popularity on the rise as more and more people return to a whole-foods, home-cooked lifestyle, Katherine and Ryan's masterpiece is one for any household, Paleo or otherwise.
Total Time:
20
hours
10
minutes
Ingredients
2

pounds

pork hocks

2

pounds

pork necks

2

pounds

pork hooves

20

cups

water

2

tablespoons

apple cider vinegar

2

small

onion

(peeled and chopped)

1

medium

carrot

(chopped)

1

stalk

celery

(chopped)

2

whole

bay leaf

1

teaspoon

black peppercorn

(omit for AIP)

4

sprigs

fresh thyme
Nutrition Facts
Calories:
251
kcal
Carbohydrates:
1
g
Protein:
26
g
Fat:
15
g
Saturated Fat:
5
g
Polyunsaturated Fat:
1
g
Monounsaturated Fat:
7
g
Cholesterol:
84
mg
Sodium:
423
mg
Potassium:
357
mg
Fiber:
0.3
g
Sugar:
1
g
Vitamin A:
550
IU
Vitamin C:
1.7
mg
Calcium:
10
mg
Iron:
1.8
mg
Instructions
Preheat the oven to 350 F.

On a baking sheet, spread out the pork hocks and necks in an even layer. Roast until golden brown, about 40 minutes.

In a large stockpot or slow cooker, combine the hocks, necks, and hooves. Cover with the water, and bring to a boil over medium-high heat, then reduce the heat to medium. If using a slow cooker, set the temperature to high. When broth begins to boil, reduce slow cooker temperature to low. Skim off the fat and scum that rises to the top and discard. It usually takes about 1 hour for the scum and impurities to rise.

Add the remaining ingredients and continue to simmer for 15 to 20 hours, adding water as necessary to just keep the bones covered – this is key to yielding a gelatinous bone broth. If using a stockpot, be vigilant about checking the water level. We've burned plenty of batches, and recommend using alarms to prevent burning your precious broth.

Gently strain or ladle the liquid through a fine-mesh strainer into a container. Fill your sink with ice water. Place the container of broth in the ice bath to cool for about an hour. Use the broth right away, or cover and refrigerate for up to 1 week, or freeze for up to 1 year.