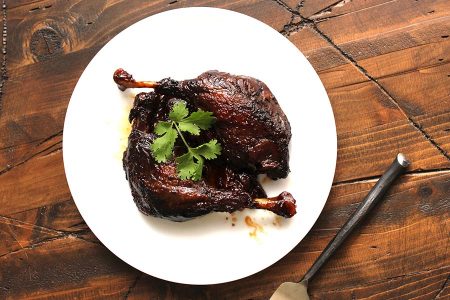 Paleo on the Go delivers pre-packaged Paleo meals vacuum-sealed in food-grade BPA-free plastic that are prepared in a dedicated gluten-free kitchen, arrive frozen, and are good in the freezer for up to six months. Each package has its own thawing and reheating instructions and the ingredients are listed not only on the package but also on their website, so you know what you're in for before you order. Not only do they offer a huge selection of entrees, sides, staples, and desserts, all of which are Paleo, but they also have the only 100% autoimmune protocol menu of any meal-delivery service! Over the holidays, I was given the opportunity to try some of their meals, and I could not have been happier to have someone else do some of the cooking during that busy time of year!
I wound up sampling the entire AIP menu at the time. The verdict? Paleo on the Go's were just as good and half the fuss! Their Duck Confit with Sour Cherry Compote is one of my favorite entrees. It pairs juicy poultry with a tart, barely maple-sweetened sauce and both looks and sounds refined… but is actually a very rustic dish you will probably wind up eating with your hands. There is a lot of meat on these duck legs, seasoned with garlic, thyme, onion, and salt, and the sauce features dried cherries and just a teeny bit of balsamic vinegar. I followed the in-pouch cooking instructions and cooked the frozen duck legs in their sealed pouch in a simmering pot of water. The convenience of going from frozen to piping-hot in about 15 minutes was very welcome after a busy day! Each pouch is supposed to be a single serving, but since there were two duck legs enclosed, I shared one with my fiancee alongside some basmati rice and steamed vegetables. He went slack-jawed and moon-eyed at the first bite of the crispy-skinned, tender-fleshed duck and wouldn't even touch the cherry sauce because he insisted the meat didn't need it. I on the other hand thought the skin was just a little too crispy (underneath the sauce, it was entirely blackened) and found that the sweet-and-tart notes of the sauce really helped take the edge off. But while the skin and thin layer of meat immediately surrounding it were a little dry and chewy, the meat inside was perfect. We both love duck and don't often have occasion to eat it, so sitting down to this quick-and-easy meal in the middle of the week sure felt like an extravagant treat!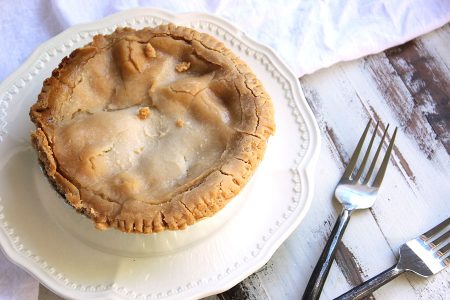 The Chicken Pot Pie is worth picking up for novelty alone. I mean, it's a 100% AIP chicken pot pie! Now, I have to confess that I've never actually had chicken pot pie before. I was a picky eater as a kid and good luck getting me to go near a pie that wasn't sweet. But Paleo on the Go absolutely delivered the creamy, comforting chicken-and-vegetable mix I was expecting. The crust, made from cassava flour, is a beautiful golden-brown and a little on the soft side, more gooey than flaky. Is that a deal-breaker? Not at all! I'm just happy to be eating something so delicious that 1) is AIP and 2) I didn't have to make myself! I shared this one with my husband and he wolfed it down as happily as I did. Since he doesn't eat strictly Paleo, I always take it as a compliment when he eats something with as much gusto as he would a pizza or sandwich.
Be sure to watch out for their seasonal offerings, too. This past Thanksgiving they had a Paleo menu and an AIP menu for a complete Thanksgiving meal designed to serve four. The AIP menu included 32 ounces of Sage & Thyme Herb Roasted Turkey with Gravy, Mashed Sweet Potatoes with Coconut Cream, Roasted Turnips and Carrots, Brussels Sprouts with Caramelized Onions, Stuffing, and an Apple Crisp Crumble (also made with cassava flour). I had the pleasure of sampling the menu and let me tell you, it delivered. Creamy, savory turkey with earthy, herb-filled stuffing, more seasonal vegetables than you can shake a stick at (including Brussels sprouts that tasted incredibly like the traditional green beans), and a satisfying, tart apple dessert to boot. I am very much looking forward to seeing what they get up to this year. They are currently offering variety packs of their top-1o Paleo sellers or their top-10 AIP sellers, normally valued at $120+, for $99. They have subscription plans, 30-day challenge plans, sugar detox plans… pretty much everything you could want. If not having to cook is a nice reprieve, not having to cook without settling for a mediocre meal or a meal that might include ingredients you should be avoiding is beyond incredible. As a seasoned AIP-er who loves to eat but doesn't always love cooking, my thanks to Paleo on the Go for providing us with some delicious and still-healthy alternatives!