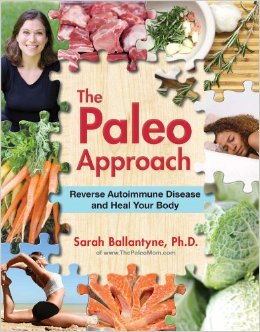 In the early pages of The Paleo Approach, Dr. Sarah Ballantyne writes that she set out to create the kind of one-stop autoimmune-disease resource that she wishes she had had when she was diagnosed. As a result, The Paleo Approach is as comprehensive as it gets. Sarah dives into the genetic, environmental, dietary, and lifestyle risk factors for autoimmune disease, including (but not limited to) toxins, infections, grains, nightshades, stress, and sleep quality. She describes how our gut, immune system, and hormones work and what happens to them when things go wrong. Most importantly, she offers ways to set things right with practical recommendations for diet, lifestyle, and working with your healthcare providers.
Essentially, The Paleo Approach answers this question: "What is autoimmune disease, why does it happen, and what can I do about it?"
If you're already familiar with Sarah's website, then you know that she has a knack for explaining advanced science in a straightforward, easy-to-understand way. It's exactly the book you should take to your skeptical doctors, family, or friends any time you find yourself having to explain your disease or defend your lifestyle. With about 1,200 scientific studies cited, The Paleo Approach would not be out of place in classrooms, but it doesn't read like a textbook. It reads like a conversation. Sarah is down-to-earth and her genuine enthusiasm, compassion, and intelligence shine. She is 100% "The Paleo Mom", a woman who will guide you gently but firmly into a full-fledged autoimmune expert responsible for your own health.
The troubleshooting guide at the end is a godsend for those who find themselves stuck. The comprehensive index, glossary, and chapter reviews make it easy to look up any terms you may want more information on, and there are complete food lists and nutrient analyses for approved foods and even some previews from The Paleo Approach Cookbook. The testimonials throughout the book ensure that you'll find someone you can relate to for whom The Paleo Approach has already made a world of difference. Reading about everyone's real-life experience put the human spin on the science, and anyone looking for a sense of community will appreciate their inclusion.
If you have autoimmune disease, know someone with autoimmune disease, or just want to better understand how our lifestyles impact our health, this is the book for you. It leaves no stone unturned!