I have always been a health nut, but more recently I have tailored my blog toward coping with chronic illness so that sufferers need not forge ahead ignorant or unsupported in this toxic environment. And, although I have avoided it all these years, I have come to realize that admitting we're sick and sharing our stories is one of the healthiest things we can do for ourselves (you can't effectively cope with a problem until you accept you have one) and our friends and family (who will be impacted by our ill health and may as well know what's going on). So, I'm sharing a tale that I've kept hidden from most of my friends and family for the past decade in the hopes that it helps my friends better understand what they've had to deal with without knowing it, helps a few patients figure out their own path, and acquaints the rest of you with the general nature of our era's much-overlooked and rapidly-escalating autoimmune epidemic.
LABELED A HYPOCHONDRIAC
About the time I started high school, I began having burning joint pain in my elbows, wrists, and neck. I skipped a lot of school as my mom dragged me to doctor after doctor, each one coming up empty. The last doctor I saw asked me if I thought I was crazy because no one could figure out what was wrong with me. It took a few days for that to sink in. He wasn't asking that question routinely. He was actually implying that I was crazy.
So, I decided that he was right, and I never complained about my joint pain again. Within the year I was in the hospital for severe chest pain and tachycardia. I had an EKG and a few blood tests, but once more everything came back clean and once more my doctors implied that I'd made the whole thing up. Although my chest pain continued for two more years, I never complained about that again, either.
All this while I'd been having mood swings I couldn't rationalize my way out of. (I now know it was hypomania, a symptom of Hashimoto's disease.) I felt alternatively worthless, disconnected, and vulnerable and angry, frustrated, and rebellious. I always tried my best to be a good friend and girlfriend, but there were long periods during which I felt nothing at all and it became difficult to maintain my relationships. I wanted to be around these amazing people, I wanted to fall in love with that thoughtful guy, I wanted to help and support everyone… but I simply didn't have the energy for all of them. And at my worst, I turned my apathy against them, pursuing things I thought would help me feel better even at their expense. Eventually I fell out of regular contact with everyone but my boyfriend, who was patient enough to put up with my bad days as long as my good ones were still good. Bless him!
In 2008, a bit over a year since my chest and joint pains mysteriously vanished, I noticed that I was having mild but persistent headaches. Assuming I was dehydrated, had watched too much TV, or wasn't exercising enough, I made a lot of lifestyle changes and kept waiting for the headache to go away. (It never did.) Years passed, and in 2010, I suddenly stopped having my period. Finally, a symptom that no one could write off as being just "in my head" or "made up". I wasn't crazy! The headaches, heart problems, joint pain — they were all real! Surely something could explain all of that?
DISCOVERING AUTOIMMUNE DISEASE (BECAUSE I ASKED THEM TO)
But still my doctors said I was fine. They gave me NuvaRing to regulate my cycle as if suddenly being infertile was no big deal. My sex drive went from "low" to "zero with a side of nausea". In August of 2010, that headache I'd had for two years redoubled its efforts and painkillers weren't helping. I was calling in sick about twice a week and I wound up losing my part-time job. I was about to graduate and had started applying for full-time work, so I needed an answer, soon. Desperate, I asked for an MRI and discovered that I had mild brain damage my neurologist thought was the autoimmune disease Multiple Sclerosis.
But that nasty surprise didn't explain any of my symptoms. It did, however, get my neurologist looking into other autoimmune diseases. We soon discovered that my ANAs — antibodies indicative of autoimmune disease — were elevated and that my TPO Ab's — antibodies specifically attacking the thyroid — were through the roof. To me, this was a diagnosis at last. Just give me drugs to lower those antibody levels, right? Isn't autoimmune disease pretty common? You hear about it on House all the time! But it turns out that even though it's extremely common, no one really knows how to treat it. Although I had the antibodies, my thyroid hormones were all normal. "Your thyroid is functioning just fine," they said. "We know it's under attack, so there will come a day when it isn't functioning, but right now, there's nothing wrong with you."

In other words, "you're still crazy". But now that I had a lead, I picked up a few books on thyroid disease. Living Well with Autoimmune Disease and Why Do I Still Have Thyroid Symptoms When My Lab Tests Are Normal? are guides I strongly recommend to anyone who is or knows someone with autoimmunity. I learned that it was common for thyroid patients to present with elevated antibodies but normal TSH, and that careful treatment with hormone therapy and dietary changes could improve my symptoms. They don't really teach the nuances of autoimmunity in medical school, and most of the advances in the field have been made in the past five years anyway. It was perfectly normal for all of my doctors to act like my elevated ANAs and TPO Ab's were no big deal — they didn't know any different. Almost all autoimmune patients are first labeled as suffering from hypochondria or depression, and by the time autoimmune disease is discovered, it's after the patient has gotten much worse. So, armed with this knowledge and determined to find my solution, I set out to find a doctor that'd prescribe treatment in spite of my normal labs.

INEFFECTIVE TREATMENT

In the end, the only treatment I could get any of my seven doctors to prescribe was for depression. After three months on Celexa during which I was nauseous, dizzy, and not all that happier, I gave up on modern medicine. A special diet, gentle exercise, plenty of rest, and positive thinking got me through the spring, but not without seeing new symptoms. Abdominal pain, indigestion, loss of appetite, low blood pressure, the return of my old chest pain. My physical complaints coupled with the emotional strain of knowing I was sick, knowing that my doctors didn't believe me, knowing that I was only going to get worse, and being more or less alone led me down some very dark roads. You don't dare to look too far into the future for fear you'll find that you simply can't bear to do it any more.
And finally, the inevitable I'd been promised. During a check-up with a new endocrinologist, he found that my thyroid hormones were finally a touch abnormal. He didn't want to say that that's what was causing any of my problems, but he prescribed thyroid drugs anyway. Since then, my emotions have stabilized and I feel whole and happy just finally knowing what this thing is. A year later, most of my labs have improved and a few are actually back within normal limits. The majority of my worst physical symptoms have improved, thanks largely to the dietary changes I've made. Diagnosis is not the end of the road. Treatments for most autoimmune diseases are only partial solutions, and autoimmune patients must always be on guard against developing further autoimmune disorders. I've already been diagnosed with IBS and gluten intolerance in addition to MS and Hashimoto's, and I'm currently being tested for type I diabetes. In any event, my starting treatment for Hashi's comes nearly 10 years after I saw my first doctor about that joint pain. Looking back on these years, I am grateful that things haven't been worse than they are — if I'd had lupus, I'd probably be dead  — but I am appalled that it took my physicians a decade to look for autoimmune disease and that they may never have found it if I hadn't asked for that MRI. Out of the 14 doctors I've seen since all of this began, only one of them (my third neurologist) knew that those TPO Ab's could be causing my problems without affecting my TSH. Even today, with 3 confirmed autoimmune diagnoses, I have a hard time finding physicians that are as capable as I'd like or as well-informed as I've become.

THE BOTTOM LINE

Here are some common symptoms of autoimmunity — almost all autoimmune diseases have several of these symptoms, so getting a specific diagnosis often means waiting for a new, unique symptom to appear — that might suggest you get some of your antibodies tested. I have had all of these, but having just one or two isn't insignificant and, at the least, some dietary changes would be in order.
Joint or muscle pain

Headaches, brain fog, dizziness


Sexual dysfunction

Abnormal menstruation

Weight loss, gain, or inability to lose or gain weight

Abnormal hair growth or loss

Depression, mood swings

Abnormal heart rate and/or blood pressure


Indigestion, nausea, loss of appetite

Fatigue
Things won't change overnight. There's not going to be a treatment right around the corner for every autoimmune patient any time soon. According to one Holocaust survivor, "our greatest freedom is how we react to what's been done to us." I spent years railing against this thing and alienating everyone trying to hide it, desperate not to let my illness define me. But there comes a point you have to accept it the way you accept your eye color or nose shape, and decide to do everything you can to make this work for you. Eat right, rest well, and take up yoga and meditation. Join clubs, go to church or support groups, invite friends over for some low-key hanging out to let them know you still care in spite of being too sick to do something more exciting. Most of all, be open about your struggles, because admitting to being sick is a lot better than trying to hide it like a shameful secret. Your family and friends will notice, so let them in. There are some excellent resources at the AARDA's website (under the autoimmune information tab) if you're interested in learning more statistics, symptoms, and coping strategies. Be informed, and be well!
Looking for Low-FODMAP Recipes?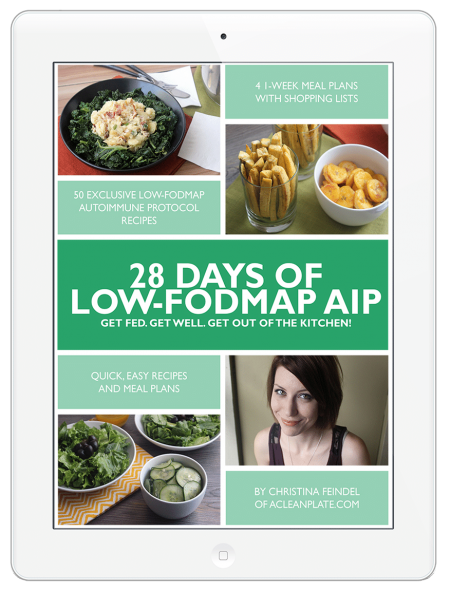 The low-FODMAP diet is often prescribed for people with IBS or Small Intestinal Bacterial Overgrowth (SIBO), and there's a huge overlap of that demographic with people with autoimmune disease. My e-book 28 Days of Low-FODMAP AIP combines both IBS- and autoimmune-friendly diets in a 28-day meal plan designed to jump start and simplify this often-challenging diet change. Just you wait: The meal plan includes 50 exclusive low-FODMAP recipes you won't find on my website or anywhere else, with dishes like Chicken Vindalo, Jambalaya, and crispy, crunchy Tostones. You'll be amazed at the variety of flavors still available to you! The ebook is available as a digital download for $9.99.