This is like the Korean version of sauerkraut, and I love, love, love it. It was easy to make and perfectly spicy-and-sour when I opened it up at day 7. You can throw in whatever veggies you want and even add shrimp or squid if you eat 'em. It's great on burgers in a lettuce wrap or as a side to any meat or eggs.
Make your own non-toxic cosmetics!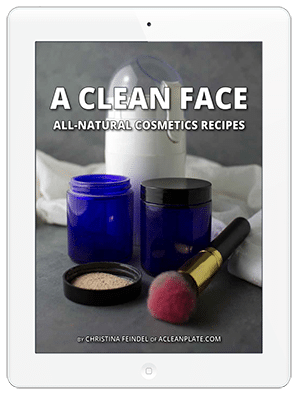 I may make my living as a food blogger, but journey toward a more health-conscious lifestyle actually began with making my own cosmetics while I was still in high school–many years before I started "clean eating". Desperate to get a handle on my sensitive skin and nose, I was also hoping for cheaper, more eco-friendly alternatives to store-bought products. If you're in the same boat, making your own cosmetics and toiletries is easier than you might think! My e-book A Clean Face will give you the tools you need to get started for just $9.99.
Ingredients
1

whole

napa cabbage

(chopped)

1/2

cup

sea salt

1

cup

radishes

(chopped)

1

cup

carrot

(sliced)

1/4

cup

ginger

(peeled and grated)

3

cloves

garlic

(minced)

1/2

tablespoon

pure cane sugar
Nutrition Facts
Calories:
48
kcal
Carbohydrates:
9
g
Protein:
2
g
Fat:
0.4
g
Saturated Fat:
0.03
g
Polyunsaturated Fat:
0.1
g
Monounsaturated Fat:
0.02
g
Sodium:
5779
mg
Potassium:
256
mg
Fiber:
3
g
Sugar:
3
g
Vitamin A:
119
%
Vitamin C:
45
%
Calcium:
7
%
Iron:
2
%
Instructions
Combine the cabbage and salt in a large bowl and massage until the cabbage is thoroughly coated and releasing juices.

Cover with cold water (you may need to use a small plate or glass to hold the cabbage under the water). Cover with a lid or plastic wrap and let sit at room temperature for 1 day.

Drain the cabbage and rinse with fresh water. Let drip-dry in a colander until just damp, about an hour.

Combine the cabbage and remaining ingredients and toss to mix evenly. Transfer to a clean, glass jar with airtight lid. Pack tightly before sealing.

Store in a cool, dark place for 1 day and then refrigerate for 2-7 days before serving.