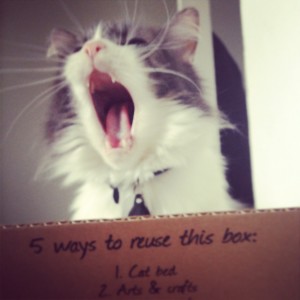 Samwise has been "off" for as long as I can remember. As a foster kitten in our multi-cat household, he was friendly with all of our other cats. He played with his siblings and even snuggled with our older, unrelated felines. But when he was old enough to go to adoptions, where he was placed in a kennel next to a dozen or more other kenneled cats, he got mean. He would hiss, growl, scream, shriek… he was a nightmare. He really, really hated being caged in a room with so many strange cats. His siblings got adopted right away, but poor, sweet, adorable Samwise never stood a chance. I was a little relieved, actually, because I loved him. Although we never intended to keep him, we finally stopped taking him to adoptions with the rest of our fosters. There was no hope of him finding a home in that environment.
Sam was into his middle age before we put the pieces of his strange, seemingly-unrelated health problems together. In that time, he'd started to lose his fur. He had bright red marks all over his legs and belly. There was a nickel-sized growth on the roof of his mouth, a white, puffy, cold-sore looking thing. He was drooling a fair bit, and we assumed he was gnawing on himself and ripping out his fur because this thing in his mouth was bothering him. Meanwhile, he was becoming mean to our other cats. The ones he'd gotten along with as a kitten were now his mortal enemies. He practically lived in my bedroom, where few of the other cats visited, and he defended his territory viciously. He wasn't just yowling and shrieking at adoptions anymore; he was becoming a grumpy and bitter old man. He even hated my boyfriends as much as he hated those other cats. Any time I had other people in my room, he'd slink off to a corner of the house and not return for days. I'd also noticed, now that he was spending most of his time in my room, that he had terrible IBS. His frequent gas was gag-inducing, and his stool was very soft. He was also eliminating outside the box and suffering from frequent asthma attacks.
The vet decided that the welt in his mouth, his missing fur, and the red spots on his skin were the result of a self-allergy. Samwise was allergic to his own saliva. A few steroid shots and he started to look better. The thing in his mouth shrank a little. But we knew that steroids were not a long-term solution. The vet didn't recommend them unless Sam was absolutely miserable. Fortunately, this was shortly before I was diagnosed with an autoimmune disease, too. When I got my diagnosis and realized that Samwise and I were facing the same kind of problems, I took him with me when I moved out and resolved to make him healthier and happier in his new one-cat household.
Easier said than done! It's relatively easy to do an elimination diet for yourself, because you know exactly what you're feeling when you eat nightshades, nuts, beans, grains, etc. My only immediate measure of Sam's health was his stool, because I knew it might take a long time for the welt in his mouth or the red marks on his skin to go away even on the right diet. I tried a bunch of different off-the-shelf dried foods. The basic grain-free ones like Blue didn't do squat for him. I finally found one that was nearly autoimmune protocol-compliant, Natural Balance L. I. D. Duck and Pea Protein. It left him with normal bowel movements and almost no gas.
It took a while before we started seeing other results. First, the red marks on his legs and stomach went away. His hair started to grow back, although it still looks a little thin in some places. He became a little friendlier, even sitting on laps. Finally, the welt in his mouth started to shrink. A year after putting him on his near-AIP diet, the welt is entirely gone. There isn't even so much as a scar. I only wish I had a before and after picture of the thing to communicate what a pleasant surprise it was to notice that it had gone. To me, that was the biggest measure of his improvement. His allergy to his own saliva had functionally vanished. As an added bonus, he no longer barfs or gets hairballs, and I had always thought that was a normal part of a cat's daily routine. Nope!
He'll have to stay on his restricted diet for the rest of his life the same way I'll have to stay off grains for the rest of mine, and there's no way to be sure that his current diet will continue to work for him as time goes by. You can't really cure autoimmune disease in the sense that you never have to worry about it again. But to functionally cure it, to no longer have any symptoms, is far better than I had ever hoped for either of us when I first learned that we both had autoimmune disease. While I'm still working on my more complex issues, Samwise seems happy and healthy for the first time since he was a kitten. And while it's a shame we didn't figure all of this out sooner, I'm grateful that we had each other. His healing gives me hope for my own, and Sam might never have recovered if I hadn't taken him under my wing.
Among my autoimmune-patient friends with a soft spot for animals, Sam's become kind of our mascot. He's a reminder that we're not the only ones affected by these health problems and that they can be overcome.
Update October, 2015: Samwise passed away this month due to respiratory distress from his asthma. Though his skin and mouth-sore issues never reappeared, his respiratory problems worsened as he got older, and during a routine checkup, the vet advised that it was time to say goodbye. He was eleven years old. My thanks and love to all of you that have asked about him since this post was first published.
Make your own non-toxic cosmetics!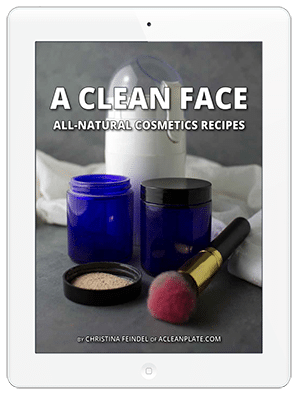 I may make my living as a food blogger, but journey toward a more health-conscious lifestyle actually began with making my own cosmetics while I was still in high school–many years before I started "clean eating". Desperate to get a handle on my sensitive skin and nose, I was also hoping for cheaper, more eco-friendly alternatives to store-bought products. If you're in the same boat, making your own cosmetics and toiletries is easier than you might think! My e-book A Clean Face will give you the tools you need to get started for just $9.99.