Nothing about autoimmune disease is simple or straightforward. Especially how it begins.
There are a lot of genes involved in the inheritance of autoimmune disease, but unlike genetic diseases like hemochromatosis and certain types of breast cancer, having them doesn't necessarily mean you're going to get sick: The autoimmunity genes need an environment that encourages things to go wrong with the immune system. And just because your mom has Hashimoto's doesn't mean the autoimmune disease you develop would be Hashimoto's. You could develop an entirely different autoimmune disease.
And you don't have to have the genes to develop autoimmune disease because genetics is only about 30% of the risk. The rest is your environment and lifestyle.
So you might wonder: Why should I know my genetic risk for autoimmune disease if I can get sick regardless of whether or not I have the genes?
Well, it can help inform you and your family's lifestyle choices. Someone with a genetically higher risk may feel more motivated to eat right, sleep well, and manage stress than someone with no genetic risk. Some mutations, like MTHFR, benefit from targeted supplementation. Knowing which gene variants you have may also inform the direction your doctors look for a diagnosis if and when you start having health problems. For example, the HLA-B27 gene is associated with diseases like ankylosing spondylitis, arthritis, inflammatory bowel diseases, and eye disorders like uveitis, whereas the DQ2 and DQ8 variants of the HLA gene are associated with Celiac disease. I wanted to know more about my genetic influences, so I decided to have my genes tested via 23andMe. Compared to having all of those tests run by a doctor, the price was a steal, so I threw in a kit for my husband too. Our results were fascinating.
23andMe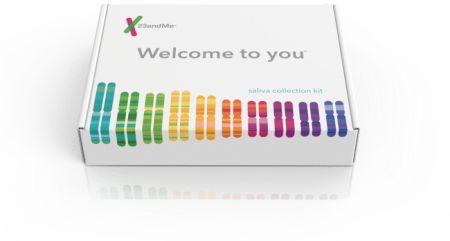 is the first and only do-it-yourself service for analyzing and reporting your 23 chromosomes that meets the FDA standards for being clinically and scientifically valid. With a simple saliva sample, you'll learn about your ancestry, carrier status for genetic diseases, the types of traits you inherited and the likelihood you had of expressing them, some information about your genetic predisposition to certain diseases or other health-related things, and also have the option of connecting with people who share your DNA to find the family connection. With the ability to download your raw genetic data for more thorough health-focused interpretation from services like Genetic Genie (which will analyze your methylation information for free), this is an incredibly comprehensive service that, for us, ran way cheaper than going through our insurance companies to test for things like MTHFR, HLA DQ2, and HLA DQ8. Since they were running a special over the holidays, I got us both a kit!
Collection takes just a few minutes. All you have to do is spit into a tube, shake it a bit, and then ship it off for analysis. Waiting was the hard part, but we got our results back within the promised six-week time frame. With my history of health problems, I fully expected to find some eye-opening connections. But I was more shocked by my husband's results. He has no family history of autoimmune disease, but does carry the gene for Celiac. And he's the one with an MTHFR mutation! We never would have suspected these things, but now he knows to keep an eye on them–and so do his close blood relatives.
Finding out that I also carry the gene for Celiac disease made me feel more secure in my diagnosis of it. All of my other tests were inconclusive, which always frustrated me. I also carry the HLA-B27 gene for connective-tissue diseases. My doctors agree that I definitely have one, but they can't quite pin down which one it is (Lupus is our prime suspect). Still, lifestyle plays an enormous role in developing chronic illness. I had a rough start in life as far as my immune system was concerned and things just went downhill from there with poor diet, poor sleep, poor exercise… heck, the only environmental risk factor I didn't struggle with growing up is stress. And guess what? I'm supposedly genetically inclined to handle stress well. So that's cool.
We did learn that we're both carriers for hemochromatosis, but since we don't plan on having children, this wasn't particularly relevant for us. However, carrier status is a phenomenally cool thing to know if you do plan on having kids. In fact, this may be the most awesome part of their service–knowing where to start looking if your kid has health issues. Knowing that my husband might inherit an MTHFR mutation and doing something about it in his very early life might have prevented a lot of the health issues he's had over the years. And as much as that thought kinda bums us out, we also know that it's never too late to start turning things around–that it's better to find these things out late than never.
I was also really fascinated by all of the non-health-related reports you can access from 23andMe. You can see the migration of your maternal and paternal DNA if enough of your relatives have used to service and if there is enough information about your particular haplogroup. As a history buff related to a bunch of history buffs, I and my relatives were very interested to learn that I possess 90% more Neanderthal DNA than the average person (apparently my very distant ancestors were also interested in cavemen, though in a very different way!). My mom's haplogroup is now primarily located, of all places, in northern India–her maternal ancestors were some of a very few that migrated all the way to Europe. These reports will also tell you how likely you were to have certain traits like dark hair, blue eyes, baldness, bitter taste receptors, and weird things like dry ear wax or sneezing in the sunlight. Apparently I had a 57% chance of having blue eyes to go with my dark hair but wound up with the 12% chance of hazel eyes instead (just missing that enchanting Zooey Deschanel combination)! My husband had a 25% chance of going bald before the age of forty–he got the bum end of the deal, too, as he was bald by 23.
All in all, I am glad I finally bit the bullet and ordered kits for us. I only wish I'd done it sooner, when they were still running $99 specials. Still, the price is a steal compared to what our doctor's office would have charged us without insurance coverage, so I am calling it a win! I think this model of do-it-yourself health information is going to take off in all kinds of unexpected ways, and it is super exciting to have this kind of tool available.