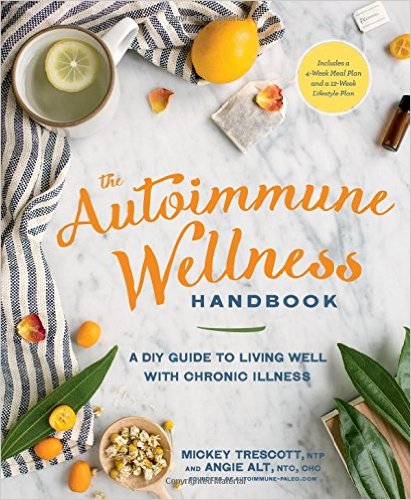 My friends Mickey and Angie published a book!
Of course, because they're friends, I'm very excited for them. But I'm even more excited for you, because it's an awesome book.
The Autoimmune Wellness Handbook contains recipes, a four-week meal plan, a guide to stocking your kitchen and getting rid of "the bad stuff", and a lot of information about the autoimmune protocol and common adaptations like the low-FODMAP diet.
But it's not a cookbook.
It's a lifestyle guide and mindset coach that will marry mind and body in the fight against autoimmune disease, wrapping you in a big supportive hug of content. In the first chapter, Inform, you'll learn about autoimmunity, how to cope with diagnosis, and the kinds of tests you might encounter. You'll learn about treatment options, how to find and work with a qualified practitioner, and how to troubleshoot lingering problems. Knowledge is power, right?
There are chapters on sleep quality and stress management, which are even more important factors in your overall health than diet and exercise. There's a twelve-week lifestyle guide to encourage you to rest, breathe, move, and connect in simple, sustainable stages to help you turn your knowledge into action. And the appendix contains a staggering amount of references and resources for further reading, making this book a wonderful "gateway drug" to further knowledge.
Plus the recipes are super tasty. I forgot to mention that part.
This is a super well-rounded resource for anyone eager to take control of their autoimmune disease. You'll find The Autoimmune Wellness Handbook a much lighter read than The Paleo Approach, making it the perfect choice for anyone who prefers a focus on wholesome self-love rather than the nitty-gritty science. (Of course, I'm a huge fan of both!)
It's currently available as an ebook and in print from Amazon.