I moved to Austin as a vegan, drawn by all the anti-meat and raw-foods establishments. And then a few months after I moved here, I found out about all of my food issues and suddenly wasn't vegan anymore. At first, I was pretty bummed. Now, I'm beyond grateful I began my Paleo autoimmune protocol days here. There are TONS of options!
And there's even more out there if you're able/willing to make a compromise or two for the sake of a good meal. Being Paleo at home doesn't mean that I fuss over canola oil or a bit of dairy or even a gluten-free treat on the special occasions I eat out. As long as I'm avoiding foods that I am seriously reactive to, like gluten. So, without further ado, here are my favorite places to grab a bite in the city: I've been to each of them multiple times and never once been exposed to something I told them not to expose me to. But don't take my word for it: Always talk to your server about your own dietary needs. If you're in town for Paleo F(x) and looking for a great place to eat, you can't go wrong with any of these!
Note that while I've divided them up into gluten-free, Paleo, and autoimmune protocol places, most of them have some flexibility. You can probably find Paleo food at most of them (especially if you're flexible on rice, dairy, and oils) and you can definitely find AIP food at some of the places in the gluten-free section. So, what's the deal? I categorized them by what I tend to go there for! So, if you're only interested in eating AIP next time you're in Austin, skip all the way down to the bottom. If you're willing to take a small risk, check out some of the Paleo places. And if you don't care what you eat as long as it isn't gluten, the world is your burrito!
Need an idea, quick? Here are my top choices if you're new to the area, depending on what you're in the mood for:
AIP: Wholly Cow (burgers) or Which Wich (sandwiches)
Paleo: 24 Diner (a little bit of everything) or Noble Pig Sandwiches (sandwiches)
Gluten Free: Kerbey Lane Cafe (a little bit of everything), Via 313 (pizza), or IM Thai (Thai)
Gluten-Free
I've never had anything I didn't like at Kerbey Lane, and there are TONS of gluten-free options. The Cobb Salad is easy to adapt for the AIP, their sweet potato fries are good Paleo options, they have gluten-free bread for sandwiches, burgers, eggs benedict, French toast… and they have a new gluten-free pancake flavor every week. I've tried almost all of them at this point and the rare Lemon Poppyseed is my personal favorite. Their queso (served with corn chips) is easily the best queso you'll ever have. The omelettes and home fries are great, too. We usually spend about $30 and have leftovers for later.
This delectable food truck features THE BEST gluten-free pizza. The crust is thicker and fluffier than any other gluten-free crust I've encountered. There are two locations, but go to the Rainey Street one for gluten-free crusts. The Cadillac, with fig preserves, gorgonzola, prosciutto, and balsamic glaze is my personal favorite! MMF! Well worth the money!
Don't feel up to heading into town for Via 313? Or maybe you're already at the mall for a haircut or iPhone fix. California Pizza Kitchen has what is easily my second-favorite gluten-free pizza of all time! With locations at The Domain and Barton Creek Square, plus the option to order online for pick-up, it's a convenient option, too. I highly recommend their BBQ Chicken pizza!
Craving some Tex-Mex? Most of El Naranjo's menu is gluten-free, but you should double check with your waiter to be safe. It's changed since I was there and my go-to dish is no longer on it, but heck, you can't go wrong. Try some mole and share a bowl of queso or salsa (or both)!
Their entire menu is gluten-free if you get corn tortillas. They keep odd hours, as they cater to the lunch crowd, so be sure to check their website to make sure your location of choice is open. I love me some Tacoloco with a watermelon agua fresca!
I worked next door to this place for a year when I first moved to Austin and never went until recently. It immediately became my new go-to place for Asian cuisine. The prices are good and the food is phenomenal! I love their Pad Thai with chicken or their Tom Yum Udon with beef or pork. The tuna lettuce cups and fried rice balls (appetizers) are also incredible. If you like spice, they've got TONS of other gluten-free options! And for $8-9, I usually have enough food for another meal or two for later.
Oh boy. This place is mostly gluten-free, has an excellent selection of coffees and teas, and boasts delicious, authentic Thai food. They also have kombucha on tap, a variety of coconut-milk-based ice creams, and a huge assortment of gluten-free baked goods. I LOVE their Thai Basil Agua Frescas and the relaxed atmosphere. Everything on the menu tends toward "too spicy for me", but they do have a large selection of gluten-free baked goods…
Just a stone's throw from IM Thai, Tarka has some of the best Indian food, especially considering it's a fast-food fusion chain. This is probably my favorite place to get takeout from. We'll order a few curries (I like the saag paneer), some biryani, maybe some soup and a lassi, and for $40, we've got food for several meals.
You can eat Paleo and even AIP here, but some of the best things on the menu involve cheese. Don't forget to save room for dessert! Their seasonal sorbets are ah-mazing.
I love their gluten-free sandwiches and the malt vinegar fries are out of this world! It's a little less pricey than Launderette, with a similar vibe.
More gluten-free sandwiches! Are you feeling overwhelmed by all the choices yet? We're just gettin' started, baby!
The staff isn't terribly familiar with what gluten is, but they were kind enough to show me all the ingredients they use in their spices and sauces. I've eaten here three times now and never had a problem. I always get the chicken plate because the gyro is seasoned off-site by someone else and they weren't sure what the ingredients are. The hot sauce is pretty spicy and the white sauce is mayo-based with no thickeners. And the fries are amazing. Plus, it's located right next to….
Quite possibly one of my favorite Austin things, Bananarchy is the frozen banana stand that'll make your banana stand. Yep, the whole thing is an ode to Arrested Development. Not all of their options are gluten-free, but I've never had problems with cross-contamination. They have a website, but their Twitter and Instagram pages are a better source of current information. Be sure to see what the weekly special is! My personal favorite is a dark chocolate raspberry one they bust out for Valentine's Day.
The entire establishment is gluten-free, so that takes some of the worry out of dining! They used to do an all-you-can-eat brunch on Sundays with carnitas, home fries, chicken-stuffed avocado, waffles, and a lot of other gluten-free goods for just $15. It was awesome to be able to sample a little bit of everything. Unfortunately, they no longer do that. Now, you have to order a dish (starting at around $8) like at most other restaurants. Their specialty is "stuff that ordinarily contains gluten" like lasagna, enchiladas, and all things battered-and-fried, and they also have an in-house bakery where you can pick up some goods to go. I've still gotta go back and try one of their cinnamon rolls!sugar
This Cupcake Wars-winner has an incredible menu… and some of the items are even gluten-free! It changes frequently, so there's always a reason to come back. Got something to celebrate or a cupcake craving you just can't kick? Sugar Mama's has your back!
Come dessert time, this is where you'll find all the Paleo folks in town. Lick produces ice cream made from local dairy (or coconut milk) and whole-food ingredients. You can't go wrong with any of their regular or seasonal flavors (except the ones that have gluten in them, obviously). Every single scoop I've had is novel, from roasted beet to avocado curd to vanilla honey to dark chocolate with olive oil. They usually have four flavors made with coconut milk that may or may not be AIP-friendly depending on what else has been added to them (when I went, one had peanut butter and two had eggs). You can find a list of each flavor's ingredients on their website and in the store. We usually get 8 scoops for about $11, which is a pretty good deal for such a high-quality treat.
Their website is not very helpful if you want to know which flavors (using what ingredients) are currently available, but no matter what's in store, rest assured that it'll be good. I've never been able to sample their granitas because I have the ill luck of always showing up when they're cleaning the machine, but the gelato is subtly flavored and just the right amount of creamy and sweet to beat even the worst Texas heat. When asked whether we preferred Lick or Dolce Neve, we couldn't decide. They've got similar taste in novelty flavors made from local ingredients and run about the same price. I mean, when it comes to good-quality, local ice cream, can you really go wrong?
This was, unexpectedly, one of my favorite places to frequent for a sweet treat. Especially during the summer! Steel City Pops makes vegan, gluten-free popsicles in a huge variety of flavors. With fruity options like Strawberry Balsamic, Clementine, and Bosc Pear with Honey plus creamy 'sicles like Caramel, Toasted Marshmallow, and Smoked Fig with Cheese, there's something for every palate (including the adventurous ones). The hardest part is picking which one to try!
Paleo
This is one of the Paleosphere's favorite places to go in Austin, probably because of their duck fat fries. As in, fried in duck fat. A Paleo fat. And yes, the food is good. But I do think it's overrated. I've had better food for cheaper. Their menu changes and there have been times when there was only one good gluten-free option. They do things like bone marrow, liver pate, and head cheese… but they're usually not safe for me to eat. So, go during happy hour for a discount and load up on their fries! You'll have to ask for the gluten-free menu at the door.
I heard about this place from Zenbelly during last year's Paleo F(x). We've been there several times now and could easily spent a fortune sampling everything on the menu. With a huge selection of kombucha, teas, and drinking vinegars, plus a lot of gluten-free options and sorbets for dessert (I've yet to try one–I'm always too full after our meal!), you can't go wrong. The chicken wings and spring rolls are great for starters, though, and the Tom Kha Gai is phenomenal.
I can't remember now who gave me this recommendation (Russ Crandall, maybe?), but whoever it was, they weren't wrong. You'll have to talk to a waiter about your Paleo options here, but the entire menu always looks damn good.
This has got to be one of the best barbecue joints in the country. It's about 30 minutes from downtown Austin on a good day, but well worth the drive into Texas' beautiful wine country. Their meat by the pound is the safest way to go. I get a half pound of brisket (no sauce) for about $8 while Noah enjoys pretty much everything else on the menu. Their brisket is buttery and delicious and I've never been troubled by cross-contamination. If you want to get out of the city, this is the place to eat!
This is another popular Paleosphere haunt. They source local ingredients and are open 24 hours a day. Their gluten-free menu is an excellent starting point and most of the dishes on it can be made Paleo or AIP with a few substitutions. The first time we went, I had their chicken salad (which came with a side of greens and another side of fresh fruit) and loved every minute of it (and it was huge). Since then, I've fallen in love with their lamb burger served with arugula and goat cheese. They also have some great milkshakes, for those of you that do dairy….
This is one of my favorites not only because they have a huge, delicious variety of sandwiches available, but because they happily serve them as a lettuce wrap, salad, or with gluten-free bread. You'll get a side of thick, crispy potato chips and pickled veggies as well. My favorite is the pork belly, lettuce, and tomato sandwich, and not just because most of the other sandwiches on the menu are spicy. It's simple food at it's best. You'll spend about $10 a sandwich.
Gluten-free beet fries! I don't know what they're cooked or seasoned with, which is the only reason they're not in the AIP section below. Beet fries. What more do I need to say?
This is THE Paleo hangout in Austin. It's another place I think is overrated, but I can absolutely see what the draw is: It is an entirely Paleo food truck that serves bulletproof coffee (the mocha chocolatte is my favorite) and bone broth (great with added ginger) and on-the-go foods like soups, salads, quiche, and cookies. Their food menu changes regularly and you don't get a lot of bang for your buck. Be prepared to spend about $20 if you plan on grabbing a coffee and something to eat.
These are a great convenience option if you're traveling or in a hurry. I like to get a salad bowl with carnitas and no dressing, beans, or rice (if you can eat rice, I highly recommend adding their cilantro lime rice), fresh tomato salsa, and guacamole. Okay, that doesn't sound very exciting, and if you're avoiding nightshades as well as grains and legumes, your options are pretty much limited to salad greens and fresh avocado. I prefer Freebirds over Chipotle because they have more options, although their steak contains gluten. Expect to pay about $7 a person.
Autoimmune Protocol
Uchi has some of the most knowledgeable staff ever. They were able to specially prepare nightshade-free versions of several dishes and were very accommodating to her large party's various needs. It's another one of those special-occasion price-point places I haven't had an excuse to splurge at. They have a variety of seafood and vegetable combinations, like yellowtail, kimchi, and truffles (the mushroom, not the dessert). I don't even know what I'd get because it all looks awesome!
Eating in a grocery store may not be the most glamorous thing, but these places have excellent salad bars whether you're Paleo or AIP and great outdoor seating if the weather's nice (and if nothing at the salad bar suits you, check out the smoothie/juice counters or Paleo-friendly products on the shelves). Whole Foods HQ is massive and has more food to choose from than you could shake a stick at. Last time I went, we got 1.5 lbs of brisket and pulled pork from the BBQ counter and a large salad (full of pretty much every single AIP veggie they had, a much wider variety than I usually have at home) for about $30.
What I like about Wholly Cow is that they provide Udi's gluten-free buns for the gluten-free crowd and portobello buns for the Paleo crowd and I have never once had an issue with cross-contamination. The Fit Cross burger is entirely Paleo-friendly and only needs to lose the mustard and tomato to be AIP. I recommend adding avocado (I bring my own). I'm not sure what oil they use for their sweet potato fries (they've given me indigestion once or twice), but they're a great side if you tolerate them. Be warned: The portobello burgers are extremely messy and you will need a lot of napkins. You'll spend about $10 for the burger and fries.
First things first: This place has the best french fries. Seriously. And you can put all kinds of toppings on them. You can get their burgers and dogs on a lettuce wrap with your choice of toppings, including grilled onions and mushrooms, fried eggs, hash browns, bacon, relish, pickles, and the usual mustard, ketchup, etc. Their seasonal burgers are great and the Breakfast All Day burger is worth trying at least once if you can. Otherwise, the build-your-own burger is a nice AIP option!
Their lettuce-wrapped burgers have a lot more customization options than Wholly Cow's, including toppings like mushrooms, pickles, bacon, and caramelized onion. They use "fresh, sustainable, and local when practical" ingredients. I like the multi-patty vertigo burger in a lettuce wrap with pickles, tomatoes, mushrooms, bacon, and onion. The sides of fries, mandarin oranges, and salad are all Paleo or easily adapted, and they do have delicious customize-able milkshakes if you're feeling naughty or need something to sweeten the deal for your non-Paleo friends. We spent about $18 on two Elevation Burgers (with extra toppings) and a side of fries.
When I first moved up here, I kept hearing that this place had fantastic food. When I finally got there, I was less than impressed, probably because the people who told me to eat there weren't foodies. The upside is that P. Terry's offers all-natural, cheap, fast food. You can get a hamburger (or two) on a lettuce wrap with onions and pickles (no sauce) for $2 each, which is really nice any time you don't feel like cooking but also don't want to spend a fortune. Add avocado or other quick toppings at home, if you like. They also have fresh lemonade and orange juice!
Build your own lettuce wrap! I like to get roast beef with extra meat, bacon, olives, sauerkraut, red onions, spinach, banana peppers, cucumbers, mushrooms, pickles, oil and vinegar, and garlic. The "sandwich" is huge and costs about $9. Plus, it is abso-freaking-lutely delicious. Be sure to tell them you have a gluten allergy, though: I've had newer employees cut my sandwich with the same knife they used on my husband's, completely ruining my meal. That aside, this is one of my all-time favorite places to stop for a really quick meal in the middle of a busy day. It's right next to IM Thai and Tarka, though, so it's always tough to decide which door to walk through if I'm not set on eating AIP.
Budget-Friendly AIP Cookbook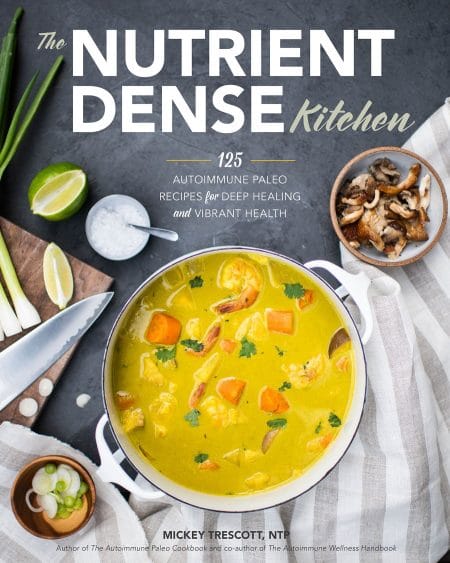 The Nutrient Dense Kitchen is a beautiful, simple cookbook all about helping you understand which ingredients will give you the most nutritional bang for your buck, and showing you how to incorporate them into your diet in efficient, budget-friendly, and delicious ways. With 125 AIP recipes and 5 meal plans, it's a cookbook you're guaranteed to cherish. Now available on Amazon.