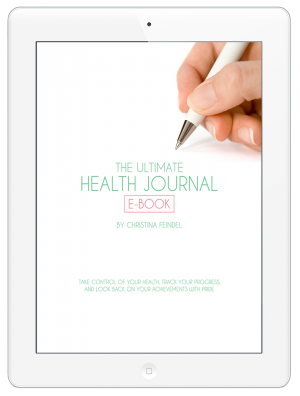 A health journal is exactly what it sounds like–a thorough record of your health, updated daily, chronicling your progress. Many health journals focus on diet and fitness, offering space to record your food, drink, and exercise; some focus on illness and surgeries with details for your hospitalizations and visits to doctors; and others focus on mental health, providing inspirational quotes and mental exercises designed to reduce stress or encourage creative thinking. With The Ultimate Health Journal, I have aimed to provide a journal that has a little bit of everything, giving you a comprehensive guide to your health that isn't so convoluted that filling it out every day will increase your stress rather than simplify your life. Logging your diet, exercise, sleep habits, stress management, social life, time outdoors, and illnesses and symptoms can help you stay on track with diet, fitness, and other lifestyle changes you have begun or been prescribed, notice patterns in your health and lifestyle so you can enact positive changes, and provide a valuable tool for you, your family, and your healthcare team. If knowledge is power, knowing your health history inside and out is the power to take control of your health, track your progress, and look back on your achievements with pride!

The Ultimate Health Journal Features
What is a health journal?
Information on what to keep track of and why
A simple, beautiful printable template for chronicling every aspect of your health
A sample journal so you can see how it's done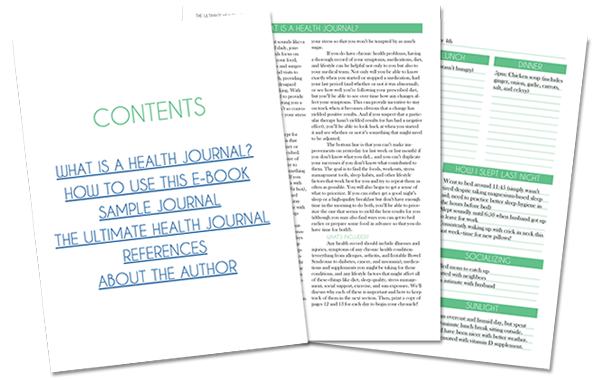 F.A.Q.s
Where do I download the e-book? Upon payment, the download link will be sent to your PayPal e-mail address. Please make sure you update your PayPal e-mail address during checkout if it is not the same as the e-mail address you would like the e-book sent to. If you are having trouble downloading the book on a mobile device, try using a computer instead.
How can I view this e-book? In any PDF reader (such as Adobe Reader for computers or PDF Reader for Apple devices) on any web-friendly device (such as computers, tablets, and smart phones).
Does this e-book work in Kindle or Nook? Yes! Send the PDF to your Kindle e-mail address or sync it to your Nook via USB.
Do I need internet access to use this e-book? You will need internet access to download the e-book and to open any links to the web inside of it, but you can read the e-book whether you're online or off.
What is your refund policy? The e-book cannot be returned after the download link has been used. If you have not used the download link, then a 100% refund will be given.
What are People Saying about The Ultimate Health Journal?
Journaling is one surprisingly simple task that everyone can use to meet their goals. Whether you want to eat healthier, exercise, or simply practice gratitude this book will have you organized and on your way in no time! – Mickey Trescott, NTP, Autoimmune-Paleo