Samosa traditionally involves serving a savory potato mixture inside a pastry alongside various chutneys for dipping. With this autoimmune protocol version, you get a quick and easy baked veggie dish! You can even top it with some homemade chutney if you like. Taro has a wonderfully potato-like flavor and is my favorite sub for the nightshade plant. If you can't find taro, you can use white-fleshed sweet potatoes or even turnips instead.
Keep Your Health on Track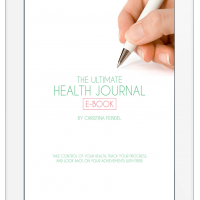 Whether you're starting the autoimmune protocol, a new medication, an exercise routine or trying to get to the bottom of your headaches or indigestion, cataloging your activities and symptoms is a great way to gauge your progress. The Ultimate Health Journal can help you stay on track with diet, fitness, and other lifestyle changes you have begun or been prescribed, notice patterns in your health and lifestyle so you can enact positive changes, and provide a valuable tool for you, your family, and your healthcare team. I would never have noticed that cinnamon makes me sneeze or dairy gives me hiccups without keeping a written record during my elimination diet, which helped me see the patterns that solved my problems! The ebook is available as a digital download with printable template for $6.99.
Nutrition Facts
Calories:
152
kcal
Carbohydrates:
28
g
Protein:
2
g
Fat:
4
g
Saturated Fat:
4
g
Polyunsaturated Fat:
0.3
g
Monounsaturated Fat:
0.3
g
Sodium:
564
mg
Potassium:
620
mg
Fiber:
5
g
Sugar:
3
g
Vitamin A:
5150
IU
Vitamin C:
11.6
mg
Calcium:
60
mg
Iron:
0.7
mg
Instructions
Preheat the oven to 375 degrees.

Cook the onion in the oil over medium heat until it begins to caramelize, about 15 minutes.

Add the remaining ingredients and cook, stirring, another 5 minutes.

Bake in a large baking dish 15 minutes, then serve hot.