Even as somebody that doesn't like cauliflower, I wholly recommend this satisfying and savory Roasted Cauliflower Soup. With garlic and onion, it's thick, creamy, and deliciously savory, but also adapts well. You can make this with either chicken or vegetable broth and season to taste with your favorite herbs and spices. This is one of my favorite ways to serve cauliflower during the cold winter months.
Looking for Low-FODMAP Recipes?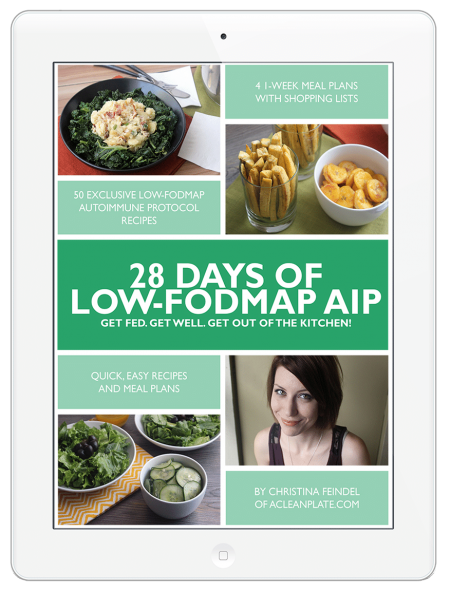 The low-FODMAP diet is often prescribed for people with IBS or Small Intestinal Bacterial Overgrowth (SIBO), and there's a huge overlap of that demographic with people with autoimmune disease. My e-book 28 Days of Low-FODMAP AIP combines both IBS- and autoimmune-friendly diets in a 28-day meal plan designed to jump start and simplify this often-challenging diet change. Just you wait: The meal plan includes 50 exclusive low-FODMAP recipes you won't find on my website or anywhere else, with dishes like Chicken Vindalo, Jambalaya, and crispy, crunchy Tostones. You'll be amazed at the variety of flavors still available to you! The ebook is available as a digital download for $9.99.
Total Time:
1
hour
10
minutes
Nutrition Facts
Calories:
197
kcal
Carbohydrates:
12
g
Protein:
4
g
Fat:
15
g
Saturated Fat:
14
g
Polyunsaturated Fat:
1
g
Monounsaturated Fat:
1
g
Sodium:
1293
mg
Potassium:
500
mg
Fiber:
4
g
Sugar:
4
g
Vitamin A:
50
IU
Vitamin C:
94.9
mg
Calcium:
50
mg
Iron:
0.9
mg
Instructions
Preheat the oven to 350F.

In a baking dish, place the entire head of cauliflower and cover with half of the fat, salt, and water. Bake for 1 1/2 hours.

In a large pot, cook the onion and garlic in the remaining fat until tender.

Chop the cauliflower and add to the pot with the broth.

Simmer 10 minutes, then puree and serve.