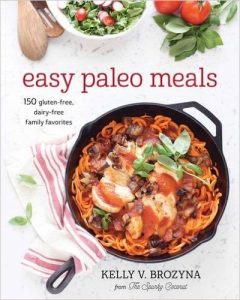 Easy Paleo Meals is the latest from Kelly Brozyna of the popular blog The Spunky Coconut, offering 150 Paleo meals that are not only healthy, but family-friendly. As a mother of three feeding her family a Paleo diet for a number of health reasons, Kelly has lots of awesome kid-friendly recipes and some great tips for staying sane in the kitchen. In the introductory chapters, Kelly will show you how to budget and meal plan, how to get the most out of your time in the kitchen and the ingredients you buy, and offer you plenty of make-ahead options so you don't find yourself stressed out and overworked on a busy weeknight. That stuff alone is invaluable info, but I know what you're really here for–the recipes!
Well, there's a LOT to choose from, and just because they're all kid-friendly doesn't mean there isn't something for the adults and special occasions with guests. There's Coconut Porridge, Molten Chocolate, Crepes, Bagels, Mini Boulder Cream Donuts, Hot and Sour Soup, Curry Twice-Baked Potatoes, Chicken and Mushroom Alfredo, Sandwich Bread, Crackers, Chicken Nuggets, Barbecue Chicken Pizza, Fish 'n Chips, Holiday Stuffing, Naturally-Colored Frostings, Blueberry Pie, and so, so many more sides, entrees, beverages, staples, and treats! My inner child was delighted to see Black-Bottomed Cupcakes, a favorite growing up that I haven't made since I was in high school!
I knew right away that I had to make the Cheeseburger Soup. Why wouldn't I try something as unique as a soup inspired by everyone's favorite fast food? (Okay, pizza might compete for that title, but whatever.) This soup is like if a bowl of chili and a cheeseburger had a baby. With hearty ground beef, diced onions, a creamy sauce of cashews, broth, and tomato sauce, and a garnish of shredded green lettuce, this dish has all the flavor of a cheeseburger without the gluten or dairy, wrapped up in a comforting bowl of soup that's absolutely perfect for these colder months. And because it has so few ingredients, it's simpler to throw together than a lot of soups, and soups are one of the easiest dishes in the first place! This one's guaranteed to be a hit with kids of all ages (27-year-old ones, too) and a favorite of any busy adult who doesn't want to have to do a lot of prep or cleanup for a delicious meal.
The Rainbow Beet Salad with Apple Cider Vinaigrette is a simple and beautiful way to get some more healthy beets into your diet. If you don't have a spiralizer, you can julienne the beets and carrots instead for matchstick noodles. You could also slice them thinly with a mandoline for more fork-friendly discs. If you can't find a blood orange, I think a sweet orange or even a grapefruit would work just as well. The dressing is ready in less than a minute and delicious enough that you'll want to start using it on all of your salads. The point is this is a very versatile recipe! If you need to make it AIP-friendly, just omit the walnuts and pepper.
With only four ingredients (two of which are salt and water) and a prep time that involves merely processing everything together and then pressing it into a pan, Kelly's Cherry Almond Bars are the perfect example of her simple and straightforward recipes. These bars have a flavor similar to the cherry Lara Bars that have become a road trip staple for me, but are a fraction of the price and hardly any effort at all to make. Aside from its simplicity, what I love most about this recipe is that you could make it with virtually any nut (or seed, for those of you with nut allergies) or any dried fruit you have on hand. Walnut apricot bars? Sure. Sunflower pineapple bars? Why not! You can easily adjust the sweetness by using more or less dried fruit than called for. Even my cat liked these, running off with a big chunk of my freshly-cut bars before I could toss her out of the kitchen.
I've always loved Kelly's recipes, but she's really outdone herself with Easy Paleo Meals. The book delivers on the title's promise and her no-fuss, down-to-earth tips and instructions keep things simple even when you're going to get a dish with rich, complex flavor. It's a cookbook that will have the whole family excited, which is a great way to start getting your kids involved in their food choices and learning about health. Birthday parties, holidays, and weeknights alike will no longer mean compromising health, time, or flavor, and even if you don't have kids, the recipes are sure to bring some fun back into the kitchen!
Rainbow Beet Salad with Apple Cider Vinaigrette from Easy Paleo Meals
SERVINGS:

4

servings

PREP:

15

minutes

COOK:

15

minutes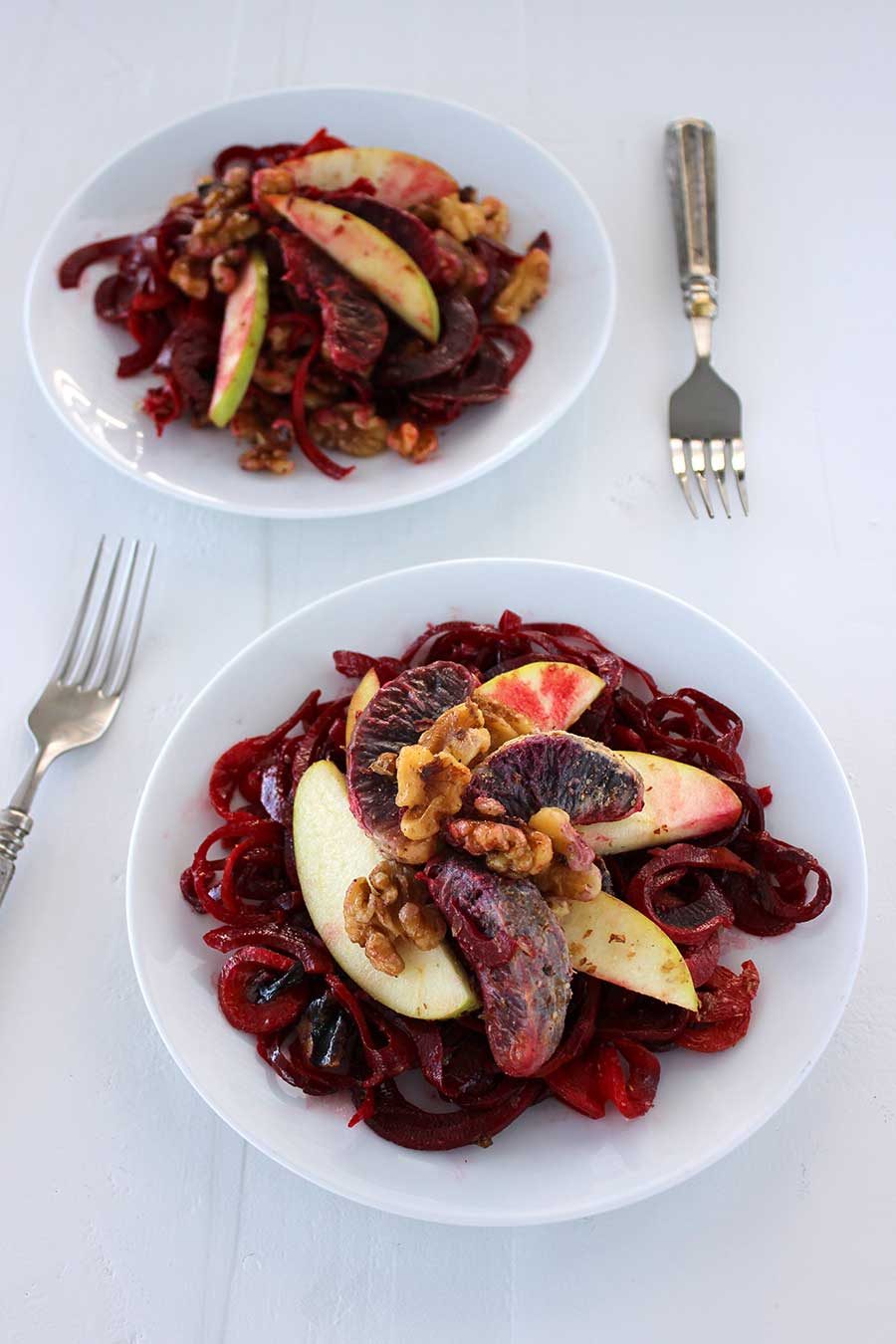 NUTRITION FACTS
| | |
| --- | --- |
| SERVINGS | 1 serving |
| CALORIES | 897kcal |
| TOTAL FAT | 87g |
| Saturated Fat | 10g |
| Polyunsaturated Fat | 33g |
| Monounsaturated Fat | 40g |
| TOTAL CARBS | 28g |
| Dietary Fiber | 8g |
| Sugars | 17g |
| PROTEIN | 11g |
| | | | |
| --- | --- | --- | --- |
| VITAMIN A | 55% | CALCIUM | 9% |
| VITAMIN C | 40% | IRON | 14% |
INGREDIENTS

NUTRITION FACTS

| | |
| --- | --- |
| SERVINGS | 1 serving |
| CALORIES | 897kcal |
| TOTAL FAT | 87g |
| Saturated Fat | 10g |
| Polyunsaturated Fat | 33g |
| Monounsaturated Fat | 40g |
| TOTAL CARBS | 28g |
| Dietary Fiber | 8g |
| Sugars | 17g |
| PROTEIN | 11g |

| | | | |
| --- | --- | --- | --- |
| VITAMIN A | 55% | CALCIUM | 9% |
| VITAMIN C | 40% | IRON | 14% |
INSTRUCTIONS
Salad
Set the oven to 400F and grease a 10-inch cast-iron skillet with the avocado oil.

Peel the beets, then spiral-slice them and add them to the skillet. Trim the ends of the carrot, then spiral-slice it as well, and add it to the skillet. Spread out the beet and carrot noodles so that they cover the bottom of the pan. Season with salt and pepper.

Put an oven-safe lid on the skillet and bake until the noodles are slightly softened, about 15 minutes.

Top the noodles with the chopped apple, blood orange, walnut pieces, and vinaigrette. Serve at room temperature.
Dressing
Place all of the ingredients in a blender and puree until smooth.

Store in a glass container in the refrigerator and use within a month.
Related Posts