Bacon and pineapple pair very well together. Now, any time I see bacon in a recipe, I'm half-inclined to add pineapple too (or vice versa). Chili was a no-brainer. Of course pineapple and bacon would be great in chili! This recipe packs quite a bit of punch for not having any nightshades in it, even if you take the AIP option and omit the black pepper.
Keep Your Health on Track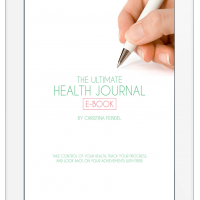 Whether you're starting the autoimmune protocol, a new medication, an exercise routine or trying to get to the bottom of your headaches or indigestion, cataloging your activities and symptoms is a great way to gauge your progress. The Ultimate Health Journal can help you stay on track with diet, fitness, and other lifestyle changes you have begun or been prescribed, notice patterns in your health and lifestyle so you can enact positive changes, and provide a valuable tool for you, your family, and your healthcare team. I would never have noticed that cinnamon makes me sneeze or dairy gives me hiccups without keeping a written record during my elimination diet, which helped me see the patterns that solved my problems! The ebook is available as a digital download with printable template for $6.99.
Total Time:
3
hours
5
minutes
Nutrition Facts
Calories:
470
kcal
Carbohydrates:
28
g
Protein:
34
g
Fat:
25
g
Saturated Fat:
9
g
Polyunsaturated Fat:
1
g
Monounsaturated Fat:
11
g
Cholesterol:
110
mg
Sodium:
935
mg
Potassium:
991
mg
Fiber:
7
g
Sugar:
13
g
Vitamin A:
8050
IU
Vitamin C:
49.5
mg
Calcium:
110
mg
Iron:
5.2
mg
Instructions
Add all ingredients except bacon to a slow-cooker and cook for 3 hours on low.

Serve the chili with the bacon for garnish.