Two years ago, I wrote a post called Accepting Illness, in which I talked about how my success after nearly a year on the AIP didn't mean I was cured or didn't have any more problems; it just meant that, more often than not, I was able to get through my days (and manage to have some fun) without anything bad happening. I highly recommend reading that post before proceeding through this one, because this post is really just a continuation. I think if I sat down and tried to make this post a stand-alone, I'd wind up saying a lot of the same things.
A year after I wrote that post, I was diagnosed with Interstitial Cystitis after ruling out all the other probable causes of some new symptoms I was having. It came outta nowhere. I'd never had bladder pain or problems in all my life, and then suddenly, after nearly two years eating Paleo and AIP, living a healthy lifestyle, I had this brand-new symptom?! It wasn't fair. And let me tell you, IC is no walk in the park. I thought the worst pain I was ever going to be in was well behind me, with my gluten-induced migraines that were an easy 9 on the pain scale some days. And okay, maybe my IC experience wasn't that bad. But it is a far more uncomfortable kind of pain. I learned to live with my migraines, however unhappily, but the IC flares were driving me insane. It feels like constantly having to pee really, really bad, except you don't have to pee, and when you do pee, it hurts even more. Plus, it really complicates your sex life. It's been a total bummer. The good news is, my IC is easily controlled by diet. I've learned what my triggers are and as long as I avoid them as fervently as I avoid gluten, my bladder is A-OK. (I also have a prescription medication I take a few times a month, on days when I am accidentally exposed to one of my trigger foods or just have a random flare. It helps, but makes me so groggy I still haven't decided if it's worth it.)
But there's a reason I never had any of those symptoms before going Paleo. My biggest trigger is yeast. Primarily, fermented foods. And in all my life, I never ate fermented foods until I started Paleo/AIP. So I guess it makes sense that I never had those symptoms before, and I guess the potential for developing IC was always there… I just had to eat enough yeasty stuff to make my symptoms bad enough to be diagnosable. Yeast sensitivity is fairly common. The benefits of fermented foods far outweigh the risks, so I don't want anyone reading that sentence and immediately cutting fermented foods out of their diets. I'm just one of the unlucky ones that doesn't tolerate them well. If you suspect you might be sensitive to fermented foods and yeast, talk to your doctor or nutritionist or try an elimination diet to see how they affect you before you stop eating them altogether. While my bladder is super happy now that I'm avoiding them like the plague, my digestion hasn't been as good. I have to take expensive probiotic supplements religiously, and even then I'm not exactly regular. Definitely wish I could still eat fermented foods!
So, anyway, that was early 2014 for me. By summer, I'd gotten my IC under control and, while I still lamented the loss of vinegars and sauerkraut from my diet, I put it behind me. New diagnosis more or less conquered, in that it was just as well under control as my Hashimoto's and Celiac. Diet: Check. Medication: As needed. Problem solved.
And then fall came.
In November, my budgie died. She'd been with me since I started college, and always sat on my shoulder when I worked. The next few months without her were rough. Noah lost his job around the same time, and while he found a new, better, better-paying one within the month, it was a stressful event the effects of which we are still feeling. I reintroduced alcohol and found myself indulging in it more often than I intended to. And then of course it was the holidays, which is always a tough time of year with travel and gatherings and expenses. I saw my Grampie for the last time on Christmas morning and he entered hospice care the next day. By the time 2015 rolled in, we were both stressed out, not sleeping well, not eating enough (in my case) or eating well (in his), not exercising, and pretty much just chugging through every moment looking forward to collapsing on the couch for a nice, distracting movie or video game at the end of the day. We both knew this wasn't ideal, but we also figured our stress levels would shortly get back to normal and in the meantime, it was okay to go easy on ourselves. And you know what? We were pretty happy, all things considered. We didn't worry about ourselves, and for a while, we felt okay. We took a good long vacation from everything that didn't feel awesome, other than work.
But of course, it caught up to us eventually. He gained some weight and hasn't been able to lose it. I lost some weight and haven't been able to gain it. And some of my old symptoms came back. I was constipated again (no surprise, really, since giving up fermented foods). I started having headaches, just mild ones at first, and then a couple of full-blown gluten-like migraines, even though I hadn't been exposed to gluten. But there was something new, too. At night when I laid down to sleep, my chest would get tight. I'd start having trouble breathing, like there was a weight on my lungs. I cleaned up my diet a little, tried to start eating more, really focused on getting out and socializing as stress-relief, managed to get my sleep back on track….
And then it was time for PaleoFX, and all of that went out the window. I've mentioned before that I have social anxiety. I've done pretty well the past few years, but PaleoFX is a nightmare for me. I stress out about it months in advance and then the whole weekend is an exhausting blur of activity and new faces. Don't get me wrong; I love socializing with my Paleo peers. But it takes its toll. And this year, I wasn't in great shape going into it and I was an absolute wreck coming out of it. My insomnia was full-blown for over a month before I was able to reign it in again. I had joint pain in my hands and feet. And during those three days in the Austin heat, I'd noticed that I had photosensitivity again as well as a distinct butterfly rash across my nose whenever I was out in the sun.
I immediately booked an appointment with my DO to have my ANAs retested. They were the first autoimmunity test I ever had, about a year before I was diagnosed with Hashi's, and they were 1:80 back then. It was ruled a fluke, because none of my symptoms or other tests indicated connective tissue problems. And after I started feeling better on the AIP, I figured that was the case. But now that I wasn't feeling better anymore, now that I did have symptoms that were obviously connective tissue problems, I wanted to follow-up on those ANAs and finally get a definitive answer to them. They came back 1:320, higher than before and high enough that there is almost definitely something connective tissue-related going on.
My DO referred me to a rheumatologist for a follow-up to find out if I had Lupus. She and I agreed that if I did have it, it was very mild and I might have trouble getting diagnosed. The earliest rheumatology appointment I could get was three months away. So, I waited. And in those three months, I worked harder at managing my stress, eating clean nightshade-free Paleo, and getting my 8-9 hours of sleep on a consistent schedule. The chest pain and difficulty breathing went away. My photosensitivity improved and that butterfly rash didn't come around as often. I still had pretty bad joint pain, though. And constipation, for the record. Oh, and my weight continued to drop. When the clothes I wore in college when I was at my scrawniest are too big, I know I have a really big problem. So I backtracked a little and added white rice to my diet, even though it usually doesn't agree with me. I know from past experience that the dense source of carbs really helps me pack on the pounds, while upping my intake of more nutrient-dense starchy vegetables tends to backfire by destroying my appetite.
Anyway, those three months passed. The rheumatologist was fantastic. Thank God, because meeting a new doctor is always terrifying. You rarely know what you're going to get. This guy knew his stuff and after a quick physical examination, ruled that I definitely had some kind of connective tissue problem. My skin was mottled, my joints were swollen, and I had absolutely no upper body strength. But, he agreed, whatever was going on was mild enough my tests would probably come back normal. I was both validated and disappointed to hear him repeat my own hunch. I didn't want normal tests. I wanted tests that would explain what was going on! He ran a whole slew of tests–19, most of which were panels with multiple tests–and sure enough, they all came back normal. According to the labs, I don't have any of the autoimmune connective tissue diseases. My symptoms, and my doctors, disagree. He wanted to go ahead and start treating me for Lupus, just based on my symptoms. And then he wanted to follow-up in a few months to see if the treatment was helping.
Having symptoms of an autoimmune disease but normal test results is kind of… well, normal for autoimmune patients. If you're one of them, you probably know that too well. Too often, doctors won't even look for autoimmune disease until the symptoms are so severe it's obvious which autoimmune disease to test for. The tests aren't really any more sensitive, much of the time. Looking for autoimmune disease is like walking by a house without smoke detectors. There could be a fire inside, but you'd have to look really closely if you're going to catch it before it's out of control.
So, I am assuming that those labs I had would have been off the charts if I hadn't been eating Paleo, hadn't been sleeping well, hadn't been managing my stress, had still been eating gluten and working myself to exhaustion… if I hadn't spent all those months just being happy and socializing instead of worrying all the time…. I am assuming that all the positive things I've done for myself have kept that fire pretty well under control, even if every now and then it flares up a little. And since that appointment, my arthritis has begun to improve and I am slowly working on building my weight back up. I feel okay. Not great, but better than I did when I started looking into those ANAs six months ago. And I am confident that the longer I stick to the AIP, not just the diet but all the lifestyle stuff too, the better I'll feel. If I can avoid another stress-fest like last year or manage to cope with it better, I am sure I could put all of this, whatever this is, behind me, too.
But at the same time, I am frustrated. Because if all the work I do to stay healthy is keeping that fire at bay… I might have Lupus, but I'll probably never know. I definitely have something that isn't explained by my existing three diagnoses. And sometimes, not having a real answer can be just as hard to come to terms with as a new diagnosis.
Ready to get started on the AIP?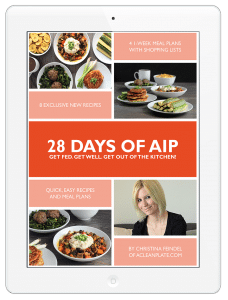 I know diet change can feel overwhelming. I started the autoimmune protocol at a time when only four other people were writing about it, and over the years, I've striven to give you the resources I wish I'd had when I got started. My 28 Days of AIP meal plan will help you get going (or get back on the wagon) with as little fuss as possible. With a variety of simple, delicious recipes, plenty of leftovers so you don't spend all your free time in the kitchen, and shopping lists all ready to go, all you have to do is follow the plan, then sit down and enjoy your meal! Get 28 Days of AIP for $9.99 and be sure to check out the rest of the series my store.
Related Posts