"Blended salads" are a big thing in the raw foods community, but they totally have their place on an autoimmune-friendly, anti-inflammatory, Paleo-like diet. They're a quick and easy way to meet your veggie quota. You could totally serve this recipe as a single-serving salad, but it's so much easier to throw all the ingredients into a blender, you barely even have to chop them first! This works best if all of your ingredients are chilled, but you can also add ice if you like.
Treat Your Sweet Tooth!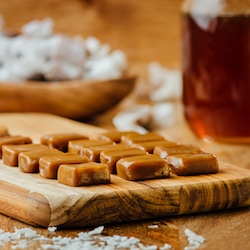 Being on a restricted diet doesn't mean you have to give up every indulgence. Temptation can be rough, and when it strikes, it's nice to have something on hand that's safe to eat. Enter Sweet Apricity. They make creamy, delicious caramels and fluffy marshmallows that just so happen to be 100% autoimmune protocol-friendly. With excellent customer service, high-quality ingredients, a subscribe and save program, and some of the most incredible sweets you'll encounter on the AIP, your sweet tooth doesn't have to go wanting. Plus, they're a great gift for anyone with food sensitivities!
Nutrition Facts
Calories:
215
kcal
Carbohydrates:
20
g
Protein:
5
g
Fat:
15
g
Saturated Fat:
2
g
Polyunsaturated Fat:
2
g
Monounsaturated Fat:
10
g
Sodium:
100
mg
Potassium:
1067
mg
Fiber:
8
g
Sugar:
8
g
Vitamin A:
224
%
Vitamin C:
77
%
Calcium:
14
%
Iron:
19
%
Instructions
Combine all ingredients in a blender and process until smooth.