About a week ago, I confessed to my autoimmune blogger girls that I was once again suffering from depression and morbid thoughts. I've written about these before. Back then, I didn't know what was wrong with me or if anything could be done to make me feel better. Once I figured out that I had several autoimmune diseases and came across the autoimmune protocol, things started to look up, but it was six months or so before I stopped imagining myself dying in a freak accident every time I stood on the balcony, went down the stairs, or handled a knife. One day, those thoughts just weren't there anymore. I didn't notice when they'd gone, I just realized one day: Hey, I haven't thought about being dead in a while.
That's when I came to think of depression as as much a disease as all of my other problems. I'd always known it was a symptom of a larger problem, but for so many years, I'd thought that problem was "how crappy my job is", "I just don't exercise enough, exercise makes people happy", "my relationship isn't working out", or "hey, I have brain damage, it's totally normal to be depressed about that". In other words, I rationalized it. And yeah, all of those are good reasons to be upset. But they're not good reasons to want to be dead. I think I knew that even when I was in the thick of it, but I had a really hard time giving a crap. What kept me going was faith that someday everything would fall into place. I'd get a better job, find more time to take better care of myself, get into a better relationship, and find a good doctor to run the right tests and prescribe the right treatments. In retrospect, I was a naive fool, but since it kept me going, I won't think less of me.
Anyway, the first time these morbid thoughts struck again was more than a year after they'd gone away, during PaleoFX this year. It was an extremely busy, stressful week. I was engaging in a lot more activity than usual, eating a lot more strange foods than usual, and I wasn't getting any sleep. Strange that a convention about healthy living could cause so much unhealthy living. It was 3 AM after the first day of the convention and I was extremely irritated that I could not get to sleep when out of nowhere, I thought about how nice it would be to be dead.
Where the hell did that come from? I wondered the next day. But I knew: I wasn't sleeping. The second I got a good night's sleep, when that stressful week was behind me and things got back to normal, it would go away. And it did.
But ever since that week, my sleep has been spotty. For every good night I have, I have two bad ones. I started troubleshooting for adrenal dysfunction–my doctor could tell I had it bad just by looking at me, bless her for noticing–to no avail. I started exercising early in the day and meditating at night. Nothin'. I changed what I ate and when I ate it. Nada. It finally dawned on me that the same week of PaleoFX, I'd started taking thyroid drugs again after several months without them. One of the first things you learn if you do any good reading on thyroid disease is that the T3 in thyroid drugs can exacerbate adrenal fatigue. And sure enough, once I stopped taking my thyroid drugs, my adrenal fatigue vanished. DUH. I started sleeping again and my mood, energy, and stress improved.
Unfortunately, I developed tremors in my hands a few months later. I'd never really had any debilitating symptoms of low thyroid before. Sure, I know that being cold all the time, having a swollen tongue, not being hungry, and constipation are all bad things. They're definitely not fun. But they never really bothered me the way twitching fingers did. I couldn't sleep because the twitching would get bad as soon as I relaxed. I couldn't draw anymore, and drawing is my big stress relief. So, I knew that I had to start taking my thyroid drugs again. About two weeks ago, I started playing with how much I took and when I took it, and while the twitching stopped a few days later, my insomnia kicked back in. I've been sleeping better than "not at all", but only just.
About a week ago, I started wishing I was dead again. And while those morbid thoughts only lasted about a day (probably because I started taking my thyroid drugs three times a week instead of every day, enabling better sleep most of the time), I've been depressed ever since. I get upset easily. I get frustrated with the simplest things. I'm sad all the time, have no energy, and am lonely when I'm by myself and irritable when I'm with people. And I keep trying to rationalize these feelings. "I spend too much time alone", "My relationship could be better", "I've had a lot of work", and "It's okay to be depressed about how the treatment for one of my diseases causes a flare in the other". And, again, while all of those may be true, I know that they are not the cause of my problem but a symptom of it. Work doesn't feel like work when I'm happy. My relationship is great when I'm happy. I spend more time with people when I'm happy. And sometimes I even forget I have any diseases when I'm happy. What's really going on is nothing more than hormone imbalances rearing their ugly heads. I say "nothing more" like it's not a big deal, but what I really mean is that, even though hormone imbalances can be chronic and really, really hard to fix, I know that my depression has very little to do with my personality or my circumstances. It's not my fault. It's not anybody's fault.
The news of Robin Williams' suicide hit me pretty hard. I think it hit all of us pretty hard. He was in all of my favorite films as a kid and when I got older, it meant something to me that he could struggle with addiction and depression and still have the manic energy to work hard, be a good person, and make people laugh. My depression feels very selfish. I don't want to be alone, but I don't want to be around people either. I am stagnating in contradictions. And my favorite distraction is comedy. When I can't sleep, I spend hours in "Weird Twitter", the little-known and under-valued corner of the platform where ordinary people try to make each other laugh and manage to court thousands upon thousands of followers in the effort. You might not expect a lot from a group of strangers constantly making fun of each other and apologizing for their terrible puns, but it's a community full of heart. Monday, my feed exploded with their confessions of depression, suicide attempts, and morbid thoughts. They begged people to speak up, to seek help, to help break the stigma of depression as weakness. They told their followers and fellow comedians they were loved and appreciated. They offered to help in any way they could if anyone was struggling. And their followers responded with statements like "You make me laugh when I don't want to."
We have the same sort of community here. I'm not very funny, so I don't think I can make anyone laugh. But knowing that what I do has helped even one person get through their own life makes all of my dark places worth having been to. And I got the same outpouring of support and love from my girls, as I knew I would from everyone in my life. I know how lucky I am and I don't take any of it for granted. The fact that I'm still sad doesn't reflect poorly on the people in my life, but the fact that I also feel appreciated, loved, and supported speaks volumes about them. And I guess the whole point of this blog post is that this is a very important subject to talk about, because if you never talk about it, 1) you will never be able to help anyone else dealing with the same thing and if you never do that, what's the point? and 2) you may never know how much you mean to everyone and, more importantly, how much they mean to you.
And what am I going to do about the depression itself? For now, I'm just going to talk about it. I'm getting it off my chest. I'm still trying to find the balance between getting the thyroid hormones my body needs and getting the sleep my body needs. And I'm still trying to figure out how to navigate work, play, and my relationships in the meantime. I'll let you know how it goes.
Need help with the AIP?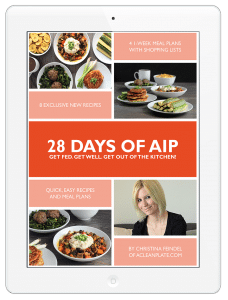 I know diet change can feel overwhelming. I started the autoimmune protocol at a time when only four other people were writing about it, and over the years, I've striven to give you the resources I wish I'd had when I got started. My 28 Days of AIP meal plan will help you get going (or get back on the wagon) with as little fuss as possible. With a variety of simple, delicious recipes, plenty of leftovers so you don't spend all your free time in the kitchen, and shopping lists all ready to go, all you have to do is follow the plan, then sit down and enjoy your meal! Get 28 Days of AIP for $9.99 and be sure to check out the rest of the series my store.
Related Posts