My first encounter with Indian food was in high school, when a couple friends of mine took me to a local Indian restaurant near our school for lunch. Mogul's. I can still picture the booth we sat in and hear the music in the air. I didn't have any dietary restrictions at the time, though I was playing with the idea of going vegetarian, and the Indian buffet was a wonderland of vegetarian-friendly flavors and smells. Palak Paneer? I never thought spinach could taste so good! Aloo Gobi did wonders with cauliflower. And over warm, fluffy naan with basmati rice and spicy curry… oh man, I was in heaven. It became my new favorite restaurant and I even had an anniversary there after my husband and I started dating. I'd be hard-pressed to pick a favorite dish from the many dozens I still salivate over, but lassis are undoubtedly the easiest one to make at home. A cooling, creamy treat after a hearty, spicy meal, lassis are a blend of fruit and yogurt that will take some of the heat off your tongue. The flavors you're most likely to encounter are mango and cucumber, but I found myself with an abundance of apple butter and thought, why the heck not? This Apple Lassi, with a sprinkle of cinnamon and non-dairy yogurt now that I do have dietary restrictions, might just be the perfect treat for those warmer fall days, but you can easily replace the apple butter and cinnamon with your choice of fruit puree and seasoning for something other than an Apple Lassi. Try cucumber and mint for a more traditional flavor or go nuts with strawberries and basil! Mmf, that sounds really good, actually. I might have to write up a separate recipe for a strawberry-basil version… or just make some of my Strawberry Basil Balsamic Ice Cream….
Budget-Friendly AIP Cookbook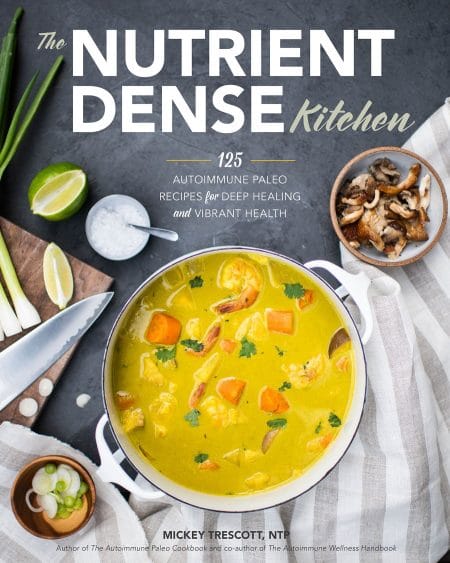 The Nutrient Dense Kitchen is a beautiful, simple cookbook all about helping you understand which ingredients will give you the most nutritional bang for your buck, and showing you how to incorporate them into your diet in efficient, budget-friendly, and delicious ways. With 125 AIP recipes and 5 meal plans, it's a cookbook you're guaranteed to cherish. Now available on Amazon.
Nutrition Facts
Calories:
155
kcal
Carbohydrates:
19
g
Protein:
12
g
Fat:
4
g
Saturated Fat:
2
g
Polyunsaturated Fat:
0.1
g
Monounsaturated Fat:
1
g
Cholesterol:
14
mg
Sodium:
166
mg
Potassium:
553
mg
Fiber:
1
g
Sugar:
17
g
Vitamin A:
2
%
Vitamin C:
3
%
Calcium:
43
%
Iron:
1
%
Instructions
Stir the yogurt and cinnamon together, then divide into serving glasses.

Swirl in the apple butter.